If you have a pet pooch, you know the pain of having to deal with dog odor in your couch and other upholstery. While most of us with fur babies may have gotten use to their smell around the house, especially on padded furniture, our guests probably haven't. 
If you are one such anxious pet parent who doesn't want to restrict your dogs from using the couch but also wants to avoid the couch smelling like your dog, you have come to the right place. In this article we have not only listed 7 useful tips for ridding your upholstery of dog odour, so let's get right into it. 
Photo by Robert Larsson on Unsplash
Why is My Dog Stinky? 
Before we look into getting dog odor out of your couch, let's look at why your pooch is stinking up your house. Perhaps the biggest reason lies in the fact that their drool, loose fur and dead skin cells contain organic material which is usually teeming with bacteria, yeast, microbes, fecal matter, urine, and other secretions which may cause the big stink. 
Other than these ususal suspects, there are also other factors that might make your dog a winning candidate for the mayor of Stinkerville. 
Excessive Sebum Production 
The oils or sebum present in your dog's skin might emit a slight odour which is perfectly normal.  However, seborrhea or seborrheic dermatitis is a condition where the same sebaceous glands produce excessive amounts of sebum. Dogs which have this condition have a strong musty and unpleasant odor. 
Excessive sebum production could be the result extremely dry and flaky skin. One of the major causes of this could be over-shampooing your dogs with harsh soaps and cleaning products. In addition to that, hormonal imbalances (Cushing's disease) and atopy or allergic reactions are also common causes of seborrheic dermatitis. 
Medical Reasons
Ear infections and bacterial or yeast infections of the skin cause a putrid stench. If you notice your doggo scratching or licking themself in a particular area of skin over and over again, you should seek medical help as it might be a sign of infection. If your pup has long, floppy or furry ears, you should be extra careful as they are at a higher risk of ear infections. 
Outdoor Smells
Just like us, our dogs pick up outdoor smells depending on where they have been. In fact, their thicker coats retain these smells longer than we do. If they have been to the dog park, they might smell of other dogs, grass, dirt and a hundred other things they might have come in contact with. So, if your pup smells uncharacteristically bad, it might be that they have rolled around in something foul-smelling. 
Also Read – What to Think About When Planning Your Home Around Your Dog
7 Tips for Eliminating Dog Smell
1. Baking Soda 
Baking soda is a great cleaning agent which also removes odor. To use baking soda, sprinkle ¼ or ½ cup of it on your couch and leave it on for at least an hour. The longer you leave it on, the more effective it is, so you can also leave it overnight. Once the stipulated time has passed, vacuum the surface thoroughly until it feels clean to the touch. This method will at least lessen the smell if not completely remove it. 
2. Commercial Pet Odor Removers
There are a range of fabric fresheners available in the market which are designed to especially eliminate pet odors. These fresheners fight stains and odors at a molecular level and are fabric safe, so you can safely use them on your couch and other surfaces. Look for bio-enzymatic cleaners as they combat odor-inducing bacteria with their own harmless bacteria. These enzymatic cleaners are a safer option for you, your doggy and your furniture. 
3. Vinegar
White vinegar is a powerful cleaning agent because of its acidity. It breaks down uric acid which is present in urine to remove any pee stains out of your couch. As a bonus, white vinegar is also safer than other products with harmful chemicals. To use vinegar as a cleaning agent, mix equal parts vinegar and water (1:1 ratio), spray the solution to the couch, blot it out with a dry paper towel and let it sit for a few minutes. Make sure that you dilute the vinegar prior to use as its concentrated form might cause damage to fabric.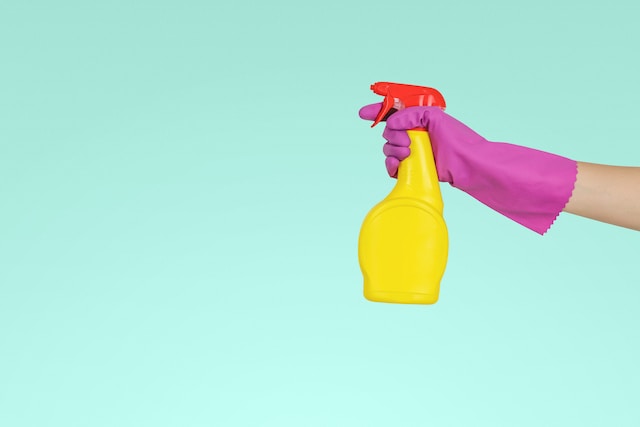 Photo by JESHOOTS.COM on Unsplash
4. Hydrogen Peroxide
Hydrogen peroxide eliminates the bacteria responsible for odor and effectively lifts stains out of your couch's fabric. To use, mix 3% hydrogen peroxide to water and spray it on the upholstery or even soak a piece of cloth or paper towel in the solution and gently dab at the stains. It does come with a risk of over-bleaching the fabric, so test it on a small portion of the fabric prior to use. 
5. Airing Out
Take your cushions and couch out to dry them in the sun on an especially sunny day. The UV rays from the sun will kill nasty odor-inducing bacteria and other microbes living in your couch. This method will also dry out your couch of any moisture and leave it smelling fresh and clean. However, bear in mind that excessive exposure to heat and light might damage your couch, so don't let it sit out for too long. 
6. Wash and Vacuum
Cleaning your couch and washing the cushion covers might seem like the most obvious answer, but in a lot of cases, the simplest of solutions are those that might exceed expectations and just solve the problem. Vacuum your upholstery regularly to remove pet dander, dead skin cells and even dandruff. Odor forms easily when these substances accumulate. It is also important to wash cushion covers and blankets from time to time. 
7. Hire Professional Help
Sometimes, home DIYs are just not enough to get the job done. If none of these solutions succeeded in eliminating the stains and odor, we suggest that you hire a professional to clean your couch. Professional cleaners use commercial-grade products and deodorizing agents which will do a much better job at saving your upholstery. It is also recommended that you get your couch professionally cleaned every 6-12 months to prolong its life. 
Also Read – Is a Mixed-Breed Dog Your Ideal Pet? Things to Consider!
Final Thoughts
Dogs are beautiful companions who will love you unconditionally for the small cost of stinking up your place. It is not their fault and cleaning up after them is a commitment you made. Baking soda, vinegar and hydrogen peroxide are all household staple which you can use to remove odor. Additionally, clean, wash and air out your upholstery from time to time. If the stench still persists, hire a professional to clean your stinky furniture. And lastly, don't forget to shower your fur baby with kisses, cuddles and love!