Your dog is a member of your family. Maybe you even think of your pooch as your son or daughter. Regardless of whether you call your dog your furbaby or not, you always want to take their needs into account in life. That includes when you're making decisions about your home, its layout, how safe it is, and even what furniture you want to have.
Planning your home around your dog might seem like you're going a little too far. But your dog's needs are just one factor to think about, so you don't have to worry that you look like a crazy dog owner. You can also take a range of other things into account, including the needs of the humans in the house and your own personal tastes. If you want to plan your home with your dog in mind, follow these tips.
Learn About Their Breed
If you know your dog's breed, learning a little bit about their typical traits can be really useful for you. It tells you things like how big they're likely to get (if they're still a puppy), how much energy they tend to have, and how much fur they might shed. You can find so many resources covering different dog breeds, so you shouldn't have any problems finding the information you need. Options like this page covering silver labradors can even give you information on breeds down to how different colors might differ slightly from each other. Don't worry if you don't know your dog's breed, because you can still get to know them as an individual dog.
When planning your home around your dog, consider creating cozy corners where your furry friend can find comfort, like a soft bed for them to curl up on or a space by the fireplace where you can enjoy evenings with your dogs sleeping at your feet.
Consider Your Dog's Personality
Dog breeds do have certain traits that they have been bred to have, but each dog is still different. Dogs have their own personality, even if their behavior, health, and other things are affected by their breed. So even if your dog is the most mixed mongrel you've ever come across, you can still think about their individual personality when planning your home. Is your dog active or more subdued? Do they like to snuggle? Where are you most likely to find them on a rainy day? Out in the backyard or hiding under a blanket?
Think About Size
The size of your dog is definitely something to keep in mind if you're planning a home that meets their needs. Bigger dogs need more space, of course, but there are certain things to think about for small dogs too. For example, will your small dog be able to climb up and down furniture, or even the stairs? Could it get more difficult to do as they get older? When you have a larger dog, you'll need to make sure there's enough space for them to move around without knocking things over or bumping into things. You probably don't want to place anything at tail-wagging height.
Choose Durability
Of course, one of the main things you'll want to prioritize for a dog-friendly home is the durability of…well, everything. Even the most well-behaved dogs can sometimes be destructive or create wear and tear through no fault of their own. Whether you're choosing which flooring will work best or deciding what fabric your couch should be in, you have to consider if it will stand up to your dog. That might mean that tiled floors are better than wood to prevent scratches, or that an easily cleaned couch is better than one that needs special care.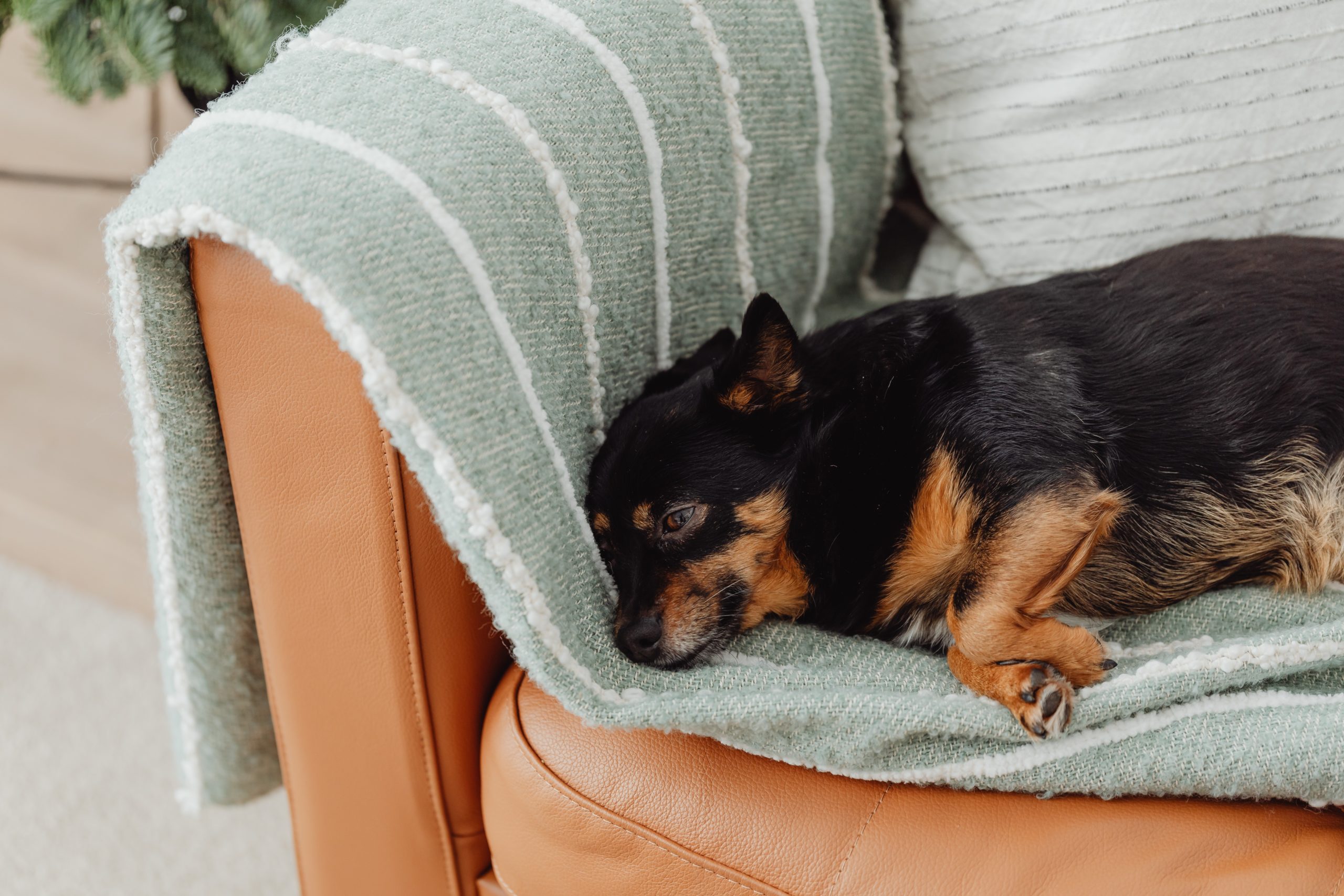 Think About Your Dog Getting Older
You might not want to think about your dog getting older, but it is going to happen. Just like you should consider your own changing needs as you age, it's a good idea to think about how aging might affect your four-legged friend. Maybe your dog will slow down and find it a little more difficult to move around. They might need a little extra help with things like getting up the stairs, or might prefer not to go upstairs at all. It's smart to be prepared, so consider how you might adapt your home to your dog's changing needs in a few years.
Create a Secure Outdoor Area
Dogs all need plenty of time outdoors, even if their exercise requirements can vary. When you have a secure outdoor area, you can let your dog run around without worry. A good fence (or a wall if you're feeling fancy) is obviously the first step to keeping your dog in and others out. You want something your dog can't dig under or jump over, and something other people can't bypass. But there are other things to think about to keep your dog safe outdoors. Choosing the right plants is really important, especially as some could be poisonous to your dog or could cause other problems if they're thorny or irritating.
Set Up Dog-Dedicated Spaces
Your dog deserves their own space. Somewhere they can relax and get away from it all if they need to escape. Some people just make this a bed or maybe a crate in a free corner of their home. Others like to go a little bit further to give their beloved dogs their own spaces. You might have a space under your stairs that you want to turn into a doggy sanctuary or even a spare room that you want your dog to have. Giving your dog several little spaces around the house will give them choices.
Another place you might want to create a little dog space, which is also for your own convenience, is at the front or back of your house. Whether it's on your porch or inside the door, a space where you can manage a wet or muddy dog will help to keep the rest of your home a little neater. Keep things like towels or a way to rinse off your dog, and have somewhere to hang leashes or other essentials.
Think About Emergencies
What would happen to your dog in an emergency? If you had to get out of the house because of a fire, would you know where your dog is? It's something you might like to think about if you want your home to be dog-friendly. Planning an escape route, as well as how to get to your dog quickly and make sure they get out too, can give you peace of mind.
Control Dog Fur
Some dogs shed less than others, but very few don't shed at all. Apart from the hairless ones. Dog fur can be the bane of your existence, especially when you have a dog that sheds a lot. But there are some things you can do in your home to help control fur, in addition to grooming your dog. Choosing the right flooring is one important factor. Some people might like carpets, but they're not necessarily the best option if you have dogs or other pets. Hard floors can be easier to sweep and vacuum. Similarly, you might want to be careful with upholstered furniture. Some fabrics, such as velvet, are going to attract pet hair more than others. You want something with a short pile that won't pick up a lot of fur and can easily be brushed off.
There's a lot to think about if you want to plan your home around your dog. You need to keep your pooch's needs in mind, but they are important to think about too. When you're making decisions about the design of your home, remember that safety, practicality, and comfort are most important when it comes to your dog.