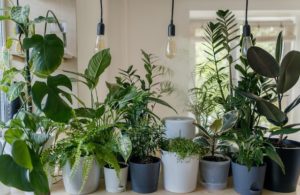 Nothing adds more beauty and life to a room than plants. Not only do they look great, but studies have shown that indoor plants can improve your health in several ways. In fact, the benefits of having indoor plants are so great that everyone should have at least a few around their home or office.
To give you a head start, you can find the best indoor plants at gardeners dream. They have a wide variety of plants to choose from that are sure to suit your needs. On the other hand, most people are familiar with plants' benefits in purifying the air, but did you know that they can also help reduce stress levels, increase productivity, and even boost your mood? Here are just a few of the ways that plants can improve your health:
1. Air Purification
The air is cleaned and oxygenated by plants, which also serve as natural air purifiers by absorbing harmful toxins and pollutants. This can help reduce your exposure to indoor pollutants, which can be up to 10 times higher than outdoor levels.
Indoor plants can also help boost your immune system and protect you from colds, flu, and other respiratory infections. This is because they help filter out harmful pollutants and increase humidity levels, which can keep viruses and bacteria at bay. So if you're looking for a way to improve your health, why not add some plants to your home or office?
2. Stress Reduction
Being around plants has been shown to lower stress levels and blood pressure. One study even found that office workers who had plants in their workspace reported feeling less stressed and more productive than those who didn't. There are a number of explanations for this, but one theory is that plants help us feel more connected to nature, which can have a calming effect.
3. Mood Booster
Plants can also help improve your mood, thanks to their ability to increase serotonin levels, a brain chemical associated with happiness and well-being. So if you're feeling down, try spending some time around your favorite plants. In fact, people who took a brief nature walk reported feeling happier and more energized than those who didn't.
4. Increase Productivity
The benefits of plants don't stop at stress reduction. Several studies have found that having plants in the workplace can also lead to increased productivity. One reason is that plants help improve air quality, which can help people focus and stay on task.
In Conclusion
Indoor plants are not just aesthetically pleasing, and they offer a host of health benefits as well. Just make sure to choose the right plants for your space and care for them properly to get the most out of them.
Caring for plants can also be therapeutic and can help you to relax. The process of watering, pruning, and deadheading can all be very calming and give you a sense of satisfaction. And when your plants are looking healthy and thriving, it'll be a real boost to your mood. And if you're looking for a place to start, check out gardenersdream.co.uk for a wide selection of beautiful, healthy plants.