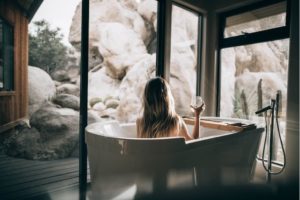 The most romantic day of the year – Valentine's day – is just a few months away, and this time you must do something special for the love of your life. And there's no better way to make the day more romantic than by planning a romantic couple bath.
A romantic bath idea will not only spark the romance and intimacy between you and your partner but will also relieve both of your stress and make you recreate an exceptional moment in your life. With the best romantic bath idea, you can reignite the lost sensuality between you and your beloved spouse if work keeps you both busy for a long while.
Let this bath night be the night you both declare your love and intimacy for one another while relaxing by taking a calm, soothing, and erotic bath. But how to make the bath so romantic? This guide on the best romantic couple bath ideas has the answer for you.
Best Romantic Bath Ideas
Without wasting any time, here is a comprehensive list of the most romantic bath ideas to help you plan the perfect valentine's day date for you and your partner.
1. Chromotherapy – Use Colors To Influence The Ambiance
Color has a significant influence on the mood of a person. This is precisely what chromotherapy does. Today, most digital marketing companies use chromotherapy to create ads with teal and green-hued color effects to give a feeling of exquisiteness and tranquility respectively. But how can it make your valentine's day special, you may wonder? You may have seen the movie 'Fifty Shades of Grey,' right?
Like the many shades of intimacy and sexuality Mr. Grey has, there are also numerous shades of colors that influence and embrace sensuality. Make sure the bathroom color is purple if you want to provoke your partner sexually. Use pink if you want them to feel warm and pleasant. To attract your partner and signify confidence, go for red. To create such color effects, use candle lights.
2. Rose Petals – Amplify The Romance By Sprinkling Rose Petals
You can make the atmosphere turn erotic and passionate by sprinkling rose petals on the bathroom. To spice things up and make things more romantic, you can make a trail of rose petals, starting from the main door to the bathtub.
Let your partner follow the path that leads to peace, happiness, and pleasure. The best decision would be to cover the bathtub with deep, sensual, and velvety red rose petals. The floating petals will create a romantic ambiance and make your partner happy.
3. Bubble Baths – Let The Aromatic Bath Relax You & Your Partner
The power of fragrance is something magical. It immerses you into a whole new level of peace. So, if you want to relax to the core, get a bubble bath for your romantic night of the year. Do you know what will go best for your bubble bath? The one with lavender.
Use a lavender foaming bath that is made with the natural aroma of the essential oil of lavender. And even research says that lavender is good for relaxing people's minds. Not only will this soothe the senses of you and your partner in the bath, but it will also moisturize your skin.
4. Movies And Wine – Make It The Most Romantic Valentines Day Of Your Life
Besides the romantic bubble bath ideas, movies and wine can make your bath even more special. With the help of a bath tray, you can watch a romantic movie while enjoying the best bath in the tub.
You can also introduce wine to the occasion to make it even more romantic. One good suggestion would be to go for Martinelli's sparkling cider, as it's readily available in almost any wine store. What could be more romantic than you, the love of your life, a movie, dim, romantic lights, a soothing bath, and some wine? Sounds perfect, right? Just go for it.
5. Ocean/Tropical/City Night View – Dive Into The Scenic Beauty While Relaxing
Who doesn't love the view of the sunset or sunrise, right? I mean, you're enjoying the best bath of your life with your partner while getting the view of the ocean right in front of you. Wouldn't that be a heaven-like feeling? Well, you can do so too.
Just book a hotel with an ocean view from the bathtub and ask them to decorate and set the mood of the bathtub as per your choice. If not an ocean, you can enjoy the city night view too. You, your partner, cuddling each other in the bathtub, a glass of wine, and the view of the New York skylines. Doesn't it sound amazing?
6. LED Lights – Every Romantic Date Is Incomplete Without LED Lights!
To be honest, your bathtub won't require that much decoration if it comes with romantic lighting on it. LED strips, two glasses of champagne or wine, and some music. That's all you need to set your partner's mood and create an intimate vibe.
Using LED lights or candles is one of the best romantic bath ideas for valentine's day. As candles come with chromotherapy as well as aromatherapy of essential oils, it's best to go for the no-flame candles that only come with lights inside. Do it positively if you're expecting to perform a lot of action in the bathtub.
7. Music – Play a Romantic Playlist To Set The Mood
Who doesn't get influenced by music, right? If you're having a bad day, the right tunes can set your mood right. But on valentine's day, you'll need to choose music that will make the night more romantic than ever. Try to play only romantic, soothing songs that will make your partner feel intense.
Have you heard the songs from 'Cigarettes After Sex?' Just listen to their track – 'Apocalypse,' and you'll know what type of song to play. If your partner likes retro, you can try the song 'Wicked Games' by Chris Isaak.
8. Jacuzzi Romantic Bathtub – Dive Deep Into Sophistication & Relaxation
A romantic jacuzzi bathtub would make your valentine's day even more romantic than ever. Imagine tea lights making the bathroom glow and give a serene vibe while the aromatic candles make things so pleasant and soothing.
If you're really looking for something sophisticated that provides the ultimate relaxation, you should go for a jacuzzi. Plenty of hotel rooms have a jacuzzi nowadays, even with a view of city skylines or the ocean. So, decide what you want to do as it may get a bit expensive in the end.
9. Aromatherapy – Essential Oils
Flowers, roots, and plants have been useful for humankind since ancient times. Today, essential oils are widely used as aphrodisiacs to promote desire and sensuality. If you're looking for one of the most simple yet fast romantic valentine's day bath ideas, you should go for aromatherapy by using essential oils in the bathwater.
You can use bath bombs infused with essential oils on the bathwater to create spinning and fizzing and enjoy a next-level bathing experience. It's best to pick essential oils with a romantic scent you like.
10. Milk Spa Bath – Nourish Your Skin While Enjoying Tranquility
If you and your partner are tired of the long week at work, take all your stress out by taking a milk bath together on Valentine's day. It is easy to prepare a milk spa bath at home for your romantic night of the year. You'll only need three things: rose petals, honey, and Cleopatra milk.
All these are highly beneficial for rejuvenating and replenishing your skin to make it glow. Ignite the romance and intimacy with your partner while enjoying the most relaxing and nourishing bath ever. This will surely become one of the most memorable nights of your life.
11. Bath Salt And Essentials – Delve Into The Potion of Relaxation
Another good romantic bath idea for couples on valentine's day is to use essential oils or bath salt. But there's one thing you must remember. Before trying this idea, you must be aware of your and your partner's skin sensitivities.
You can test that by pouring a few drops of the mixture on your and your partner's hand. If you find no irritation whatsoever, you have nothing to worry about. This will surely provide you both with a mesmerizing, soul-relaxing bath.
12. Small Room BathTub – 'Size Doesn't Matter!' It Never Does!
Whether your bathtub fits into a small room, moments of joy and pleasure can be experienced everywhere. Make sure your small romantic bathtub comes with elegant and joyous romantic bathtub decor. One of the best ideas is to use one or two LED light candles, two glasses of wine, candies, and flowers hanging, and some aromatic scent from the essential oils on the bathwater.
Pamper them with love and care while some romantic jazz plays in the background on your mobile speaker. Sounds like the perfect, low-budget valentine's day date, right?
13. Long Distance Couples Bath – Don't Let The Distance Take The Fun Away From You!
You're wrong if you think that distance between you and your partner will ruin the bath idea for both. Gone are the days when you have to wait for your partner to come back home to take a romantic bath with them. With long-distance couples bathing, you can enjoy this special day with the love of your life, no matter how far they are.
All these couldn't have been possible without the internet and technology. Both of you can pick your favorite drink, hop into the bathtub and connect via video calling. A video call bath with your partner will not compensate for what you're missing, but it will at least make you both feel that your love for each other is never-ending.
14. Massage For Each Other – Get Intimate Faster With Massage!
There's nothing more effective to boost the level of relaxation and pleasure you're already experiencing than a massage for each other. After the bath is over, both of you can just lie down naked, massage one another, feel the heat and intensity of the situation, and carry on with your emotions.
There's nothing more erotic than a massage from the hands of the love of your life. Their single blow of air around your neck can make your hormones go crazy. So, just imagine the level of arousal you both will get when you're up for an intense massage using essential oils.
15. Get Your Towels Ready – Don't Make Her Stay Wet (Or She Might Catch Cold)!
Wrapping your cutie pie around a soft, comfy towel is an intimate experience in itself. Things are going perfectly as you planned them to be until you wrap her around a thin and itchy towel. Won't it ruin all the hard work?
Use a clean, fluffy and soft towel to save yourself from such an embarrassing and mood-disrupting situation. Make sure the towels are made of 100% pure natural cotton for ultimate comfort and relaxation. Let her/him feel warm under the towel before you make her/him warm yourself!
Preparation Before The Romantic Valentine's Day bath:
Make sure you choose the perfect water temperature per your and your partner's desires and preferences. If you have kids at home, ensure they're at their grandparent's home or asleep by the time you go for the bath.
If you want the bathing session to release muscle tension and soothe sore muscles, use hot water. If not, go for regular-temperature water.
Try to plan things ahead, make a shopping list for items like essential oils, rose petals, etc., and be ready with the materials before the day arrives.
If the weather is warm around the place where you'll spend valentine's day, you should use a lightweight spa wrap rather than any heavyweight terry cloth robe.
It's best to use battery-backed LED candles with flame-free, flickering light features that are less worrisome than the conventional ones we use.
When using traditional candles, make sure you burn them in non-flammable, colored containers or holders.
Final Words
Taking a romantic bath on valentine's day is one of the most romantic, intimate, and sensual things you can do with your partner. Enough of the bookings and reservations for an expensive restaurant. This year, try something new, something sexy, something naughty! Try taking a romantic bath together.