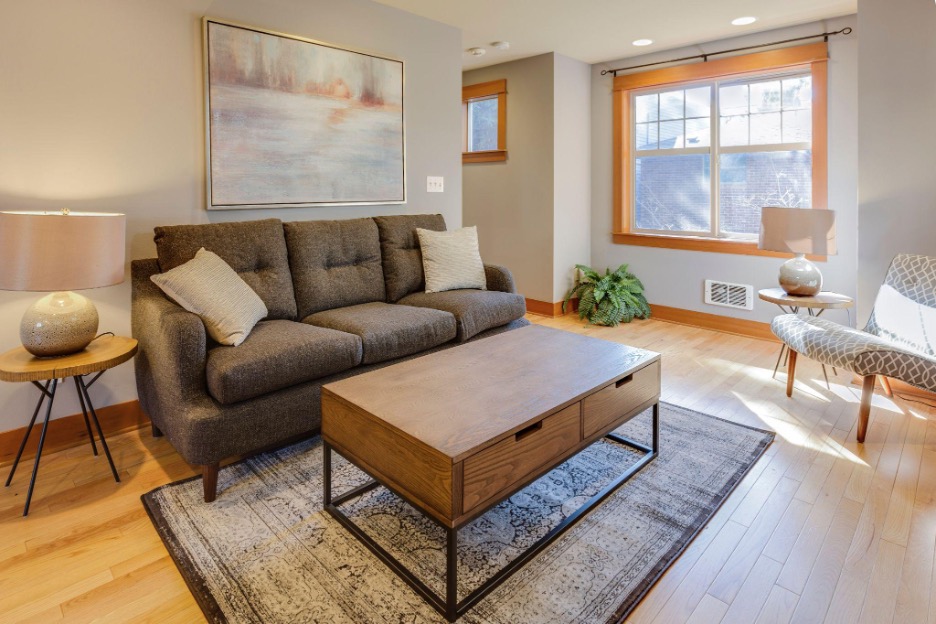 If you live in a small apartment, sticking to the bare minimum of home decor can be tempting. But with creativity and clever thinking, it is possible to create an inviting space that feels like home! Here are ten ideas for making the most out of your small space:
Double-sided tape to hang decor and pictures
Double-sided tape is a common item found in homes. It is helpful for hanging things on walls, but few people know its other uses.
If you want to hang any decorations or pictures on the wall, double-sided tape can be used to ensure they stay in place. The only trick is to ensure that the tape lines up correctly with where you will hang your posters. If it doesn't seem like it will stick well enough, just put a small piece of single-sided sticky tape on top of each other at different angles before applying them directly to the wall. You don't need to worry about this because you won't see it once the posters are up.
If you want something more secure than standard sticky notes or magnets but still want something easy to remove later, try using double-sided tape instead!
Use your space under the bed for storage
Using the space under your bed can be one of the best ways to maximize storage in a small apartment.
Keep things that you use regularly within easy reach. For example, if you are short on closet space and do not want to use your dresser as an organization center, place your shoes and other items in storage boxes under your bed.
Keep things you do not use regularly out of sight but nearby. Store extra pillows or blankets that will not be needed for a while under the bed in large plastic bins where they are safe from dust and other pollutants and easily accessible when needed later. 
Hide a desk or other furniture items
Use a tablecloth.
Use a decorative box.
Hide with plants or vases.
Paint the item in your apartment to blend in with your décor. Choose the right color that matches your room's color scheme and paint it over, but it takes effort and experience to paint furniture pieces. If you are not comfortable doing this yourself, consider asking for help from someone who knows how to paint furniture.
Use a piece of artwork as decoration. If you want to keep it private, try hiding behind doors or behind other pieces of furniture so no one suspects something is there!
Add a floating shelf
Floating shelves are a great way to add storage space to your small apartment. You can install them on the wall or ceiling and use them to display decor, books, and other items. Floating shelves can put additional design to any room in your home.
Create color blocks with paint on the wall
Use a color wheel to choose colors. A color wheel is a tool that helps you pick out colors based on their relationship with one another.
Create blocks of color using paint brushes or rollers. For large areas, it is easier to use a roller than trying to paint them with a brush!
Choose the right paint for your wall surface and make sure it covers evenly over the walls without any drips or splotches!
Install drawer organizers in the kitchen
Install drawer organizers.
Organize your drawers.
What to store in drawers: frequently used items and rarely used items.
Create multifunctional rooms
If your apartment has a small kitchen, combining the kitchen and living room is a good idea. You can do this by adding sliding doors that separate the two rooms when you are not using them together. This will create an open space that doubles as both an entertaining area and a place where people can relax while eating.
You can also use your extra space to make one big closet or bathroom. If you have limited storage in your apartment, consider turning a spare bedroom into a walk-in closet or putting a sitting area inside the master bathroom so that it doubles as an elegant spa retreat. A touch of a  in your living room would make your room look aesthetically beautiful.
If you have guests over often, this would be good for you. Too much square footage—and if you have guests coming over often, this would be ideal!
Use sheer curtains with vertical stripes to make rooms appear taller
If your apartment is small, try using sheer curtains with vertical stripes to make rooms seem taller. This will give the illusion of extra space in your living room or bedroom. Mirrors will give an additional illusion of your small apartment as well, try putting in a small arch mirror at the side of your bedroom. It will make your room appear larger with a little style in it.
Keep furniture low to the ground
Low furniture is an excellent way to maximize your apartment's space. Not only does it make for a more comfortable living situation, but it also allows you to move around your living room with ease and style. Most importantly, low furniture is more affordable than high-end pieces with fancy features like recliners or electric lifts.
The best part about buying low-to-the-ground pieces is that they do not have to be boring! You can find options that are stylish and fun—look for ones made from colorful fabrics or wood finishes.
Invest in a large mirror
A large mirror is one of the best ways to make a small space feel bigger. Mirrors are great for reflecting natural light, making it appear as if the room is larger than it is. You can use a mirror to reflect an accent wall or piece of art in your space, enhancing the overall look. Another option is to hang a large mirror on an outside wall to reflect what is going on outside.
While this might seem an obvious choice for any living room, try using mirrors in other areas of your home too! A hallway or entryway table are great places to incorporate this decorating trend into smaller spaces without worrying about creating too much clutter by hanging multiple pieces together at once.
Small homes do not have to look small. Learn how to maximize your space.
When decorating a small apartment, it is important to make your space look spacious. Do not skimp on quality; do not be afraid to use color in your home. The key is knowing how to maximize every inch of space, from making a tiny bathroom closet to hanging art pieces in unexpected places—like above doors and windows!
The best tip we can give you is simply to make sure that you select pieces that you really love and that reflect your personality. Budget will always be a factor, but don't let it limit you when it comes to decorating! Your home should be a comfortable, inviting space–one that reflects who you are.