What Is a Butcher Block Restaurant Table?
Back in the old days, butchers would use hardwoods like walnut, maple, cherry, oak, etc., to build a table for cutting large chunks of meat. Butcher block surfaces traditionally used upward-pointing grains from tree rounds for sturdy support. Nowadays, butcher block tables have evolved as thick slabs that offer durability and sanitized surface for preparing and serving food.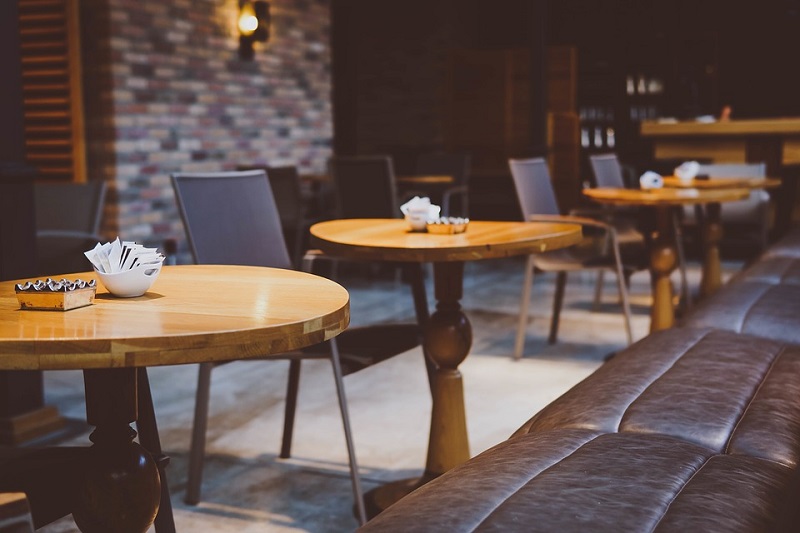 Constructed by assembling and gluing together wood boards, butcher block is a popular material for restaurant tables due to its warm and inviting appearance. The manufacturing process of butcher block tables involves turning lumbers on their edges and gluing them together. Depending on how the manufacturers arrange the edges, butcher block table tops are available in the following finishes:
Face-Grain:

The most basic style which uses wide

wooden lumbers

.

Edge-Grain:

A popular technique in which lumbers are arranged in parallel and their edges are visible.

End-Grain:

An expensive technique that results in a checkerboard pattern from smaller wooden pieces.

Blended:

An irregular pattern that results from boards of different lengths and colors.
Butcher block restaurant tables have an earthy element that complements any décor and theme in your restaurant's dining room. On top of that, they are affordable, eco-friendly, and easy to maintain, making them an ideal material for restaurant tables.
Why Are Butcher Block Tables Perfect for Restaurants?
1. Butcher Block Tables offer a Great Ambience
Blessed with a neutral tone and natural look, butcher block tables can enhance any ambience. The evergreen, rustic charm of butcher block fits into any setup to create visually stunning interiors. Butcher block restaurant tables are versatile and can be used in several setups and themes.
2. Available in custom size and shape
Modern-day technology makes it possible to design butcher block tables according to your custom requirements. So, depending on the dimensions of the tree logs, it is practically possible to make butcher block restaurant tables in any shape, size, thickness, and style.
3. A variety of Wood Options are available
Butcher block restaurant tables are available in various wooden materials. Although hardwoods are a more popular choice traditionally, some designs use softwoods too.
Hardwood Materials:

While oak is a more pitted option, maple creates a smooth finish. Cherry has a distinctive, red-tinted color, making it an attractive option for some ambiences. Walnut is available in many colors naturally and offers the best finish to match any restaurant design.

Softwood Materials:

Although softwoods like pine, aspen, cider, etc., don't offer much resistance to bending, denting, or chipping, they result in a rustic, worn look and are preferred by many restaurant-goers and owners.
4. Butcher Block Restaurant tables are cost-effective
Butcher block is an affordable yet high-quality material for restaurant tables. Most commercial butcher block restaurant table tops are available starting from $35 – $40 per square foot. On the contrary, an equivalent marble or granite table top can easily cost you upwards of $100 per square foot. Moreover, installation and repairing cost for butcher block tables is minimal, making them even more economical. By saving money on the material cost, you can use this cash to buy other restaurant appliances or decorative sets.
5. Butcher Block tables are Durable
With regular upkeep, butcher block table tops can last up to 20 years. In comparison, it outlasts laminate table tops and can give marble table tops a run for the money. The hardwoods used in construction offer sufficient protection against scratching and chipping. Even if you notice any nicks, you can refinish them effortlessly with fine-grit sandpaper. Moreover, they are easy to clean or maintain and offer complete peace of mind.
How to Maintain Butcher Block Restaurant Tables?
Like any other commercial furniture material, regular upkeep of butcher block tables retains its charm and adds years to its life. Periodic maintenance might seem cumbersome to some owners, but the savings are worth the effort.
Butcher block is one of the rare materials that you can use for food preparation in the kitchen as well as serving in the dining room. You can use it to retain the shiny appearance of the butcher block restaurant tables. However, if you have butcher block counter tops in the kitchen for preparing or chopping food, use mineral oils every week. Mineral oils prevent the grains from separating and keep the surface shiny.
Here are some handy tips for maintaining butcher block table tops in your restaurant:
Use a soft cloth for everyday cleaning.  

If you notice any spills, immediately use a napkin to dry the surface.

Use a moist cloth dipped in a mild soap solution for stains and other stubborn spots.

Avoid using harsh chemicals or abrasive cleaners.

Follow the material specific

furniture care instructions

from the manufacturer.
Conclusion
Butcher block restaurant tables have a distinctive look and appealing finish. Availability in different sizes, shapes, and finishes allows custom designs that can alleviate any theme in your restaurant. On top of that, butcher block is a sturdy, durable, and versatile material that results in premium furniture without denting your budget.
This article introduces butcher block restaurant tables and how you can benefit from them. Hopefully, by reaping the advantages of butcher block, you get an eco-friendly yet cost-effective restaurant furniture material that transforms your dining area and attracts more customers.