Wondering how you can handle renovation work at your home? Many people dive into remodeling work without any clue as to what they should expect. Many people often regret not having a plan when they experience costly mishaps. 
Home renovation can be full of disappointments without preparation. There can be unforeseen issues and expenses that can complicate the process. Therefore, there are different things you should consider before you start remodeling. When doing home renovations, you should consider the following things. 
Get Appropriate Design Ideas
You need to be specific about your design ideas before you start the renovation work. You can browse decorating websites and magazines to get inspiration. Make sure your designer can customize your ideas to suit your needs. You must have a strict budget and never allow the designer to procure materials that will cause you to exceed that budget. Make sure the contractor you hire can handle the renovation task. 
Use Appropriate Materials
When you decide to undertake renovation work at your home, ensure that you prioritize durability and longevity. If you want to renovate your concrete floors, buy materials designed for any construction site to achieve the best results. Substandard materials can lead to a shoddy job that may need to be revisited within a short period. You must get reliable, tried, and tested materials for any remodeling work. 
Set Realistic Timeline
Home renovation can take longer than anticipated, so you should be prepared for this. To avoid becoming frustrated, you must have a realistic timeline, and make sure your budget can meet all the expenses. Removal of old fixtures in your home can take a short time, but getting the ideal replacements you want can take several days or weeks. If possible, you must gather all the materials required before you start renovation work. 
Start With the Kitchen
When renovating your home, it is a good idea to start with the kitchen. This is where most of the work produces a lot of dust and debris, so you would not want it to land on other finished tasks. Kitchen renovations usually take several months to be completed. A remodeled kitchen significantly adds value to your home, so you must prioritize this area.      
Notify the Occupants Inside the Buildings
Certain renovation work can be carried out while the occupants remain inside the building, especially if the tasks are minor. You need to notify the occupants, so they take protective measures to prevent injuries. Communicate clearly with anyone that could potentially be affected by the remodeling work. You must inform them about the type of renovation work being undertaken and the time within which it is expected to be completed. 
Expect Anything
When you renovate an old house, you should know that it may have some issues you were previously unaware of. Different issues can be hidden under the floors, on walls, or on roofs. Renovation work can bring them to light, and you'll need to address them, even though they are not in your original plan. For instance, you cannot install new hardwood floors on top of the uneven concrete floor underneath. This means that you'll need to allocate extra money to your renovation budget to cater to unexpected mishaps that can be encountered along the way. 
Paint
Painting is one of the last activities to do when you have completed the major renovation work. Get ready to buy the appropriate paint that suits your new style. You may also need to repaint the ceilings, walls, and floors depending on your needs. If you cannot handle the task, make sure you enlist the services of a professional painter. 
Buy New Furniture
When you have renovated your house, you may need to upgrade other fixtures like the furniture to match the new style. Be sure you get proper measurements for each room to get items that will fit in your space. Choose furniture that matches the color scheme of your home and other elements like flooring, and ceiling. For instance, according to a stained concrete expert you cannot install new hardwood floors on top of the uneven concrete floor underneath.
Clean the Place
Remodeling your home can be messy since the entire process leaves pieces of scrap, dust, and stains on the surfaces. Additionally, renovation work also emits fumes and harmful chemicals that can continue to linger even after the completion of the project. The pollutants can lead to poor indoor air quality which can cause headaches, respiratory issues, or skin allergies. Therefore, your house will need a thorough cleaning to get rid of all the dirt and pollutants.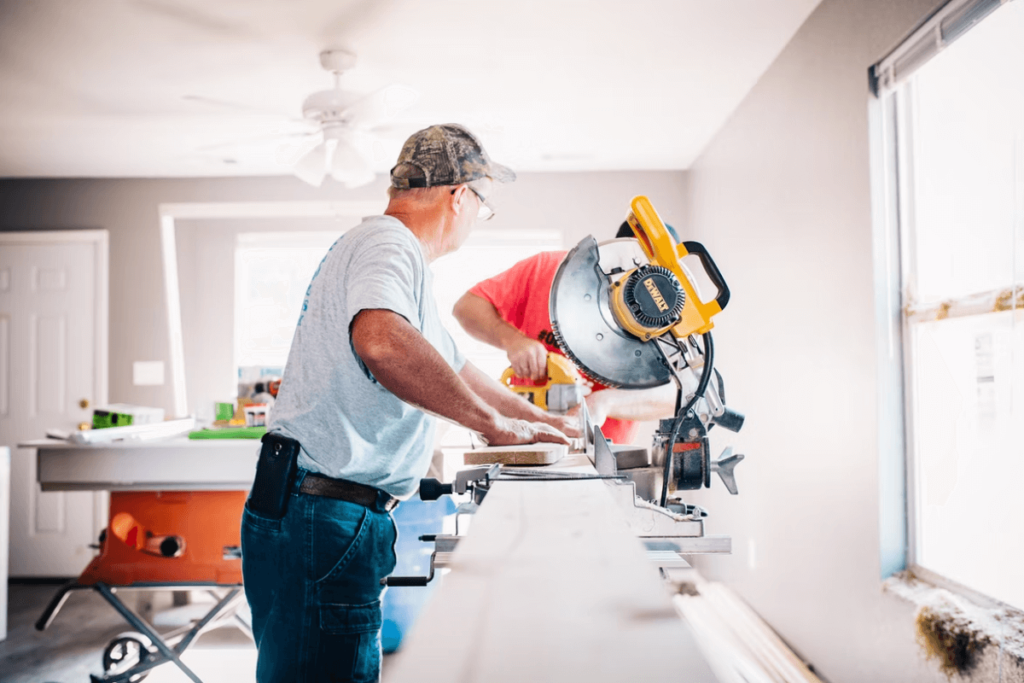 When you decide to renovate your home, it is crucial to have the best design ideas, and you should hire an experienced contractor who can handle the task. Be sure to use quality materials and prioritize the safety of the employees, and occupants of the home throughout the entire period of the project. When the work is completed, you should thoroughly clean your house.