Architects can offer their clients much more than the standard fare thanks to their wide range of experiences and expertise. 
Usually, an architect will help with things like making a general layout, drawing up plans, and keeping an eye on the building process. Some of the other things that architects do are project management, architectural programming, and feasibility studies.
The Standard: Design Phases
Depending on the type of service a client wants from an architect, whether for commercial or residential architecture services, the following are usually provided in a standard contract. Here is an overview of the essential benefits of an architect: 
1. Programming
When you set goals for a project, you are defining its parameters. In the programming phase, no actual design is currently developed; gathering an idea is done.
Architects mainly ask questions to understand the client's situation better and tailor the service accordingly. It is also the place where analysis and choice-making take place. 
Although the bulk of the architect's work here will consist of providing advice, they still want the client to give a detailed list of what they require.
2. Schematic Design
During this phase of the project, the architect will begin the process of preparing preliminary design sketches and concepts. These will be based on the client's needs and financial constraints said on the programming phase. 
Architects will then help explore and illustrate potential options using schematic diagrams like zoning or bubble diagrams, space matrix diagrams, etc.
The architect discusses the available choices with the client. They go over the numerous advantages and disadvantages of each and respond to the input provided by the client.
3. Design Development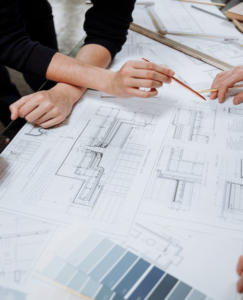 Once a mutually acceptable schematic design has been developed, the design development stage can begin, and the project's scope and quality can be more precisely defined. Now that architects have a rough outline, they can start making changes. 
In this stage, architects consider a wide range of materials, rating them on aesthetic quality, longevity, and cost. In this step, the customer chooses finishes for the bathroom, such as tile for the shower or countertop. 
Extra cost estimates aid in figuring out if the design stays within the preliminary budget and, if not, changes need to be made.
4. Construction Documents
In this stage, you will deliver a product in two full drawings, and the construction documents will fill in all the design's missing pieces.
The submission of these construction documents is required to receive a building permit from the appropriate authorities. They are also used to locating potential contractors to collaborate on the project and soliciting bids from said contractors.
5. Bidding and Negotiation
If you hire a competent architect, they should be able to assist you in selecting a contractor by evaluating all the bids you get. The architect is involved in assessing the proposals and drafting the agreement between the client and the contractor.
6. Construction Administration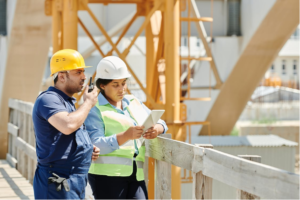 During Construction Administration, architects often act as owners' representatives. The contractor's compliance can be verified through inspections, size checks, and material testing.
There are valid arguments on both sides regarding whether or not this component is required. That is generally thought of as standard practice for architects. It is typically included in the base fee that they charge for their services. 
If the owner's architect doesn't do this, they should request it as an add-on with pay. Most property owners need more construction expertise, and an architect's direction and advice to a project's owner are precious.
Extra Architectural Services
The following extras are beyond what a standard architectural contract is called for. But a competent architect can help clients by providing a wide range of complementary services.
Here are the top add-ons you can ask your architect, of course, with a fee:
1. Alternative Project Delivery Selection
No matter what, an architect will know a lot about the different ways to get a project done and can help choose the best one. 
The owner should be in charge of delivering a project, so asking an architect for help would be an extra service the architect could offer.  
2. Electrical Schematics
While electrical schematics are necessary, architects aren't required to provide them. Architects are best suited to provide these drawings because they know the design's final layout. 
3. Record Drawings
Owners of preexisting structures should always have current, accurate drawings. 
Architects usually require these before a project because they are helpful for the building's future development. 
The owner may misplace the blueprints for various reasons, and if that's the case, hiring another architect to redo them is needed.
As-built and record drawings are different. As-built graphics are explained in the Architect's Handbook of Professional Practice as showing any changes to the original design during construction. "As-built" drawings should show modifications in red ink.
4. 3d Renderings
Modern design software lets architects render 3D designs. It helps the owner visualize their building and can be used for project promotion. Architects often create short films of 3D renderings of their projects. Primary services include design drawings, but 3D images aren't because of the cost and time involved.
Most clients only care about a beautiful, legible image, not its creation. Architects often outsource rendering services to make
5. Interior Design
Some architects design interiors in-house. If the architect offers this service, the client looking for an interior designer should use it. Including all design elements from the start benefits the project and creates a more cohesive final product.
As we said at the outset, only some architects include the same primary and additional services. Whether you offer extra services depends on your skills. Every client should read the contract to ensure it consists of the essential services they expect and any additional services they may need.
6. Cabinetry Elevations
Cabinetry elevations are detailed cabinet drawings. Creating cabinetry elevations requires a lot of detail and can take hours; no housing authority requires this.
 Architects are qualified to make these drawings, just like electrical schematics, and they'll know what cabinet configuration fits the design.
7. Feasibility Studies
A feasibility study aims to know if a project is profitable. Architects consider the project's location and other factors in deciding if it will meet the owner's needs. A feasibility study examines the owner's legal right to build. 
8. Sustainable Design
Clients increasingly ask architects for sustainable design services due to environmental concerns. 
An architect may offer sustainable design services such as material health impact analysis, design for well-being, energy analysis, ventilation and CFD, carbon accounting, project sustainability assessment (LEED, BREAM, WELL), and workshop facilitation. 
9. Urban Design
How buildings and other city structures work together to make a pleasant environment is just as important as how they look. 
Since it involves building, landscape, and city planning, many architects will need to hire outside consultants who are experts in these urban fields.
As the project's scope grows, the architect's contract can grow to meet the needs and make the task much better. 
10. Mixed-Use Architecture
Demand for village-like buildings y increasing. When building owners have an idea for a facility that will be used for more than one thing, they need to find architects who are experts in this design. 
Mixed-use means that a single building can be a home, a restaurant, a place of work, a medical office, or serve more than one purpose. Combined with urban design, this creates microneighborhoods where people don't have to travel far to work or play.
Other Services To Consider
Here are more add-on services. 
Site Selection

Bidding/Negotiating/Price Discussions

Building Condition Audits

Full-Time Site Representation

Project Management

Multiple Contract Preparation
If you are an architect, the above items are good to include on your service list. Additionally, more client work equals more revenue for architects. If you are a client looking for an architect, this list will help you find someone who can meet your requirements.