As we all know, our homes often accumulate many unwanted items requiring assistance. From the countless pieces of furniture and appliances you no longer need to the never-ending mountain of junk piled up in your yard—it's more than enough work for anyone. Hiring a professional junk removal service is often the best option when it comes time to get rid of all that extra stuff finally. With so many services out there, it can be challenging to narrow down which one is right for you and your needs. Here are some tips for picking a good junk removal service near you.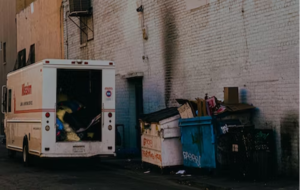 1. Look for Experience
An experienced junk removal service provider will have the necessary skills, expertise, and equipment to handle all tasks efficiently and safely. They will have encountered various removal challenges and developed effective solutions. Moreover, an experienced company is likely to have a team of trained professionals who can easily handle complex removal tasks.
Working with an experienced junk removal service provider also ensures that your property and belongings are handled carefully. They understand how to safely remove and dispose of different types of junk without causing damage to your property. An experienced junk removal company will also have the tools and equipment to handle heavy or bulky items, ensuring the removal process is done safely and efficiently. The more experienced the company, the better your chances of getting quality services.
2. Check for Licensing and Insurance
When you hire a licensed and insured junk removal service, you can have peace of mind knowing that you're working with a reputable and trustworthy company. A licensed service provider is likely to have undergone a rigorous screening process to obtain their license, ensuring they have the necessary skills, training, and expertise to provide quality junk removal services. Additionally, a licensed company will have a code of conduct that they must adhere to, which helps to maintain the quality of their services and protects consumers from unethical practices.
Insurance is also a critical factor to consider when choosing a junk removal service. Accidents can happen during the removal process, such as damage to your property or injuries to the service providers. If the junk removal service you hire is not insured, you could be held liable for any damages or injuries that occur. However, if the company is insured, its policy will cover any damages or injuries, protecting you from unexpected expenses.
3. Consider the Services Offered
The services offered by a junk removal company can vary widely, so it's essential to consider your needs when choosing a provider. Some companies offer same-day removal services, while others may require booking several days in advance. Additionally, some companies specialize in specific types of junk removal, such as electronic waste or hazardous materials. Therefore, it's crucial to consider your specific needs and choose a company that can meet them.
Another service to consider is recycling. An environmentally conscious junk removal service provider will have a clear recycling policy and ensure that the items they remove are disposed of in an environmentally responsible way. They will also be knowledgeable about recycling regulations and ensure that your waste is recycled in compliance with local laws.
4. Read Reviews and Check References
One of the best ways to determine if a junk removal service is right is by reading online reviews and talking to references. Reviews can provide valuable insight into the quality of services, customer satisfaction, and value for money. Moreover, talking to references will allow you to gain first-hand experience with the company and ask any questions you may have.
By taking the time to research potential junk removal service providers thoroughly, you can make an informed decision that will meet your needs and ensure a successful removal process. A reputable and experienced provider can help remove all your junk quickly and safely, leaving you with more space to enjoy.
5. Compare Quotes and Costs
The cost of hiring a junk removal service can vary depending on the amount of junk to be removed, the type of items, and any additional services required. Therefore, comparing quotes from multiple providers is important to get an accurate idea of how much the job will cost. Additionally, it's a good idea to ask about any additional costs that may apply, such as fuel surcharges or disposal fees.
Doing your due diligence to research prices and services will ensure you receive the best bang for your buck. Moreover, when you select a reputable junk removal provider offering competitive prices, you can be sure your unwanted items will be handled safely and efficiently.
6. Verify the Recycling Policy
As mentioned previously, it's essential to ask about the recycling policy of a potential junk removal provider. A good service will have a clear and comprehensive recycling policy that ensures all materials are disposed of responsibly. Additionally, they should be knowledgeable about local regulations and guidelines for recycling various types of waste.
When you take the time to check out a potential provider's recycling policy, you can be confident that your rubbish is disposed of legally and ethically. Plus, with verified recyclers, you don't have to worry about those materials ending up in landfills or being wasted. Choosing an eco-friendly junk removal option is responsible and smart for our planet.
7. Customer Service
It's important to consider the customer service offered by a potential provider. Look for a company that offers prompt and friendly service and is willing to answer any questions. Most reputable junk removal services will have a customer service team that is well-trained and knowledgeable about their services. Additionally, ensure that your chosen provider has good communication skills and will keep you informed throughout the process.
The crucial elements will ensure your junk removal service is effortless and satisfactory. Partnering with an esteemed supplier that offers amazing customer support makes for a smoother, swiffer experience so you can revel in your newly liberated space even more.
Following these tips, you can easily find a reliable junk removal service that meets your needs. Researching potential providers and asking the right questions will help you make an informed decision that ensures your satisfaction. A good provider can help you eliminate all your junk quickly, safely, and responsibly, leaving you with more space to enjoy.