Sip and paint, a delightful fusion of creativity and relaxation, has recently gained immense popularity. It doesn't matter if you are a budding artist or looking to unwind with your friends creatively; events like these are the perfect getaway.
Can you imagine letting your mind run wild while you go ahead and sip on some beverages and socialize with the people attending the event? Sounds fun, doesn't it?
This article will explore everything you need to know about sip-and-paint ideas for beginners that are foolproof and fun.
What is Sip and Paint?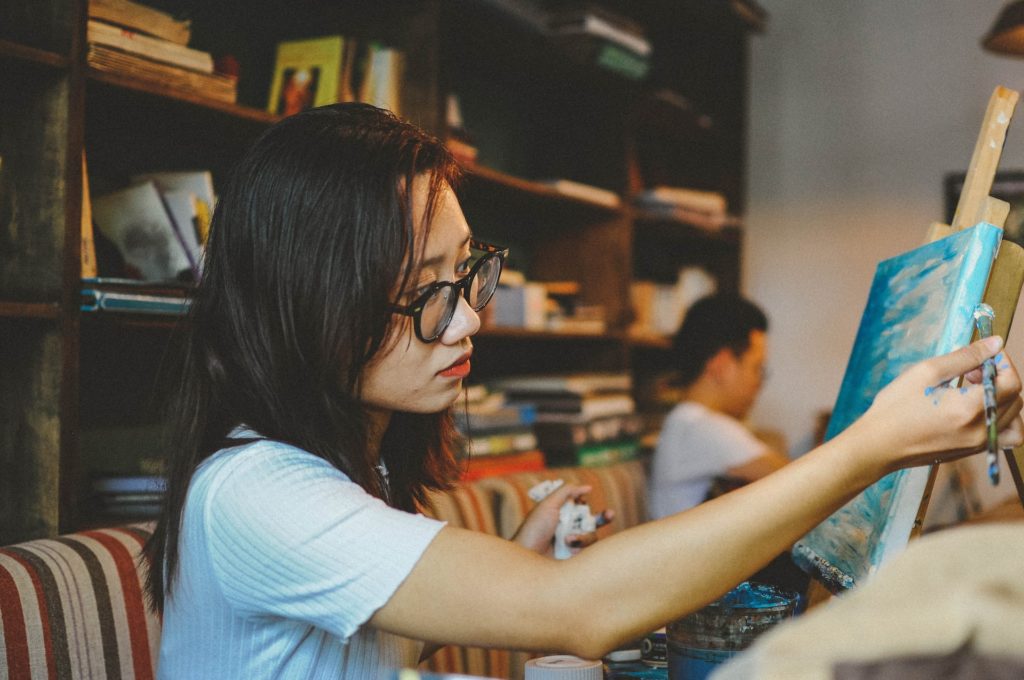 Sip and paint, also known as paint and sip, is a social and recreational activity that combines painting with the enjoyment of alcoholic beverages, typically wine or cocktails.
People who sign up for such events come together to share a glass of their favorite drink while drawing their hearts out. It isn't an artist's retreat, meaning you don't need to be exceptional at art to sign up for such an event.
Activities like these are perfect if you have a passion for art and want to socialize with new people or unwind with your group of friends.
Why are Sip and Paint Events So Popular?
Over the years, sip and paint events have gained much traction for all the right reasons. Following are a few we'd like to highlight:
Events like these are open to everyone, irrespective of their skill levels, which means that you don't need prior experience in painting to attend them.
Getting to paint while sipping on a beverage is the best way to unwind and relieve stress.
If you want to meet new people and make new friends, this is the perfect type of event that you can sign up for.
Many of us live a fast-paced life where we hardly find any time to engage in creative pursuits, so this is an excellent opportunity for such situations.
What's excellent about sip and paint events is that you take home the paintings you make as a memory.
Best Sip and Paint Ideas for Beginners
With all the basic understanding about sip and paint events out of the way, let us look at some great ideas you can implement.
All these ideas are beginner-friendly, meaning you won't find any issue emulating them in your drawings/art.
1. Serene Landscape
As a beginner artist, no one can go wrong with landscape paintings. They are easy yet visually appealing. Nature provides abundant inspiration to choose that as your starting point.
Some quick landscape ideas include a lakeside, colorful sunset, lush forest sceneries, etc. You can start with a rough sketch and then switch to filling them up with colors. Remember that no one is trying to show off their artistic abilities at sip-and-paint events. All you are there for is to have fun, meet new people, and relax.
As you paint your landscape, sip on your drinks, look around at what other people are doing, and enjoy the process.
Also Read: How to Plan a Personalized and Relaxing Space in Your Garden.
2. Abstract Expressionism
If you are someone who loves painting from their art and without any reference, abstract painting ideas are perfect. This is perfect for those who want to let their emotions flow freely onto the canvas.
And, since abstract doesn't confine its style to strict painting rules, it is perfect for beginners who don't have good artistic abilities. You must pick up the color palette and let your instincts do the rest for you.
What's excellent about abstract art is that you can layer the colors and experiment with different techniques, which is always a bonus. This one is undoubtedly an exclusive therapeutic experience.
3. Floral Fantasia
Painting flowers can be visually rewarding and relaxing, making it an ideal choice for beginners. Floral paintings are timeless. You can't argue otherwise. From a child in nursery to an advanced painter in their 80s, almost everyone has drawn a floral piece once in their life.
As a beginner, if you want to put more effort into your floral painting, we'd suggest working with a reference. Sip on your beverage of choice while you sketch the basic outline, and then fill things in. The key is to add colors that make the flower pop.
The choice of color palette that you make for your painting will most likely make all the difference. Choose vibrant colors unless you are drawing a floral arrangement that includes light or pastel-colored flowers.
Also Read: The Five Most Soothing Colours To Paint Your Living Room.
4. Whimsical Animals
This might make heads turn because how does a beginner draw animal figures? This is where you add a bit of fun and challenge to the experience. Whimsical animals include ideas like cute pandas, quirky owls, etc.
So, it doesn't necessarily include super detailed or boring animals. Instead, they are fun animated versions that look adorable after you finish the piece.
You can start with a reference or even ask for help from coordinators. Include off-beat colors and make the painting pop. That adds a bit of a fun element to the whole arrangement.
5. Silhouettes and Sunsets
We briefly discussed landscapes, but what about sunsets and the unique blend of pink, orange, and red that often encompasses the entire sky? Well, you can't go wrong with such painting ideas, right?
Not only is this sip-and-paint idea beginner-friendly, but the results that come out of it are breathtaking. You can start by painting the background in vibrant sunset hues—warm oranges, fiery reds, and soothing purples.
Add elements to the backdrop you created as you sip on your drink. You can add buildings, riverside, parks, benches, etc. The creative leeway is entirely in your hands. Also, you must blend the colors well for that perfect finish.
6. Underwater Creatures
Well, marine life is fascinating, and portraying it in a painting is an experience of a lifetime. If you love the ocean and underwater creatures, this is another sip-and-paint idea we'd 100% recommend you get back behind.
Since painting marine life can be challenging for a beginner, we advise having a reference in hand. You can sketch per the reference and then start filling in the colors. If it gets too much, take a break, walk around, see what other people are drawing, and enjoy your drink.
If you are a beginner wanting to explore your artistic abilities, this is a painting idea we'd 100% recommend you try out at the next Sip and Paint event.
Also Read: A DIY Guide To Painting Your Home's Exterior.
Conclusion
Sip and paint events are becoming more and more popular among people. If you have been meaning to register for one yourself but didn't know what kind of paintings to indulge in, we'd recommend giving these ideas a go. They are fun, exciting, and also engaging. Remember that the process is as necessary as the final result, so embrace the creative flow, sip your favorite beverage, and let your imagination guide you.