There are more than 8 million homes with solid walls around the UK. Solid walls are those which either have no hollow or there is a very small one that is not appropriate for cavity wall insulation. As a result, solid wall homes experience a great deal of energy loss, which drives up the cost of heating and cooling.
Thankfully, the right choice of insulation can help make buildings more energy efficient. And for homes with solid walls, you can choose between a variety of exterior and interior wall insulation. Since the exterior application is more time-consuming, labour-intensive and costly since it involves quality materials that can withstand all kinds of weather, many opt for the latter option.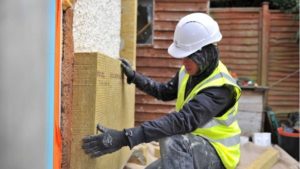 And while the internal option usually costs less, it also takes up valuable floor space some homeowners aren't that happy to part with. Luckily, PIR boards are great interior insulators that don't take up as much space as the other options.
Curious to learn more about them? Here's a quick rundown of their advantages and some tips on choosing the right boards from the 20mm PIR insulation on the market all the way to the thicker 150mm options.
What Is PIR?
Before we delve into why PIR is such a great solution, let's first understand what it is. In short, it stands for polyisocyanurate, a type of foam-insulating material commonly used in construction. 
PIR boards consist of a rigid foam core sandwiched between two sheets of aluminium foil. These boards are typically installed on the internal or external walls of a building to improve its thermal performance.
The Many Advantages
High Thermal Performance
One of the biggest benefits of PIR insulation is its high thermal performance. In fact, it's one of the most effective insulation materials on the market today. It has a thermal conductivity of 0.022 W/mK, which means that it is able to resist the flow of heat through the walls of a home. 
Thin Profiles
A huge advantage that makes polyisocyanurate boards stand out from the other options is their thin profile. These boards have a relatively low lambda value (often between 0.019 and 0.026 W/mK) compared to other insulating materials, which greatly reduces the thickness of the material required.
For solid walls, the U-value aim can be met with layers as thin as 20mm PIR insulation boards. So, compared to other types, PIR insulation takes up less space in the home. This is particularly important for homes where there is limited space to work with.
Fire Safety
Fire safety is always a concern when it comes to home insulation. Thankfully, PIR insulation is a very safe material. It is resistant to fire and has a high melting point, which means that it will not ignite easily. In addition, it does not give off toxic fumes when it burns, making it a much safer option than other types of insulation.
Resistance to Moisture
Moisture is another concern when it comes to home insulation, particularly in the UK where dampness is a common problem. This type of insulating board is resistant to moisture, which means that it will not absorb water or encourage the growth of mould or mildew. This is particularly important for solid wall homes, which can be more prone to damp and moisture-related issues.
Nonetheless, it is necessary to adhere to the installation and storage instructions to prevent moisture problems. These boards will thus serve as a long-term option for your wall projects.
Simple Installation
Polyisocyanurate boards are a good alternative for retrofits since they are simple to install and can fit in small places. They are ideal for DIY applications because they are lightweight and simple to use.
Homeowners should clean and dry the surface and prepare the space by removing any old insulation before placing these boards.
Cost Effective
While polyisocyanurate boards may have a number of benefits over other insulation types, the price must also be taken into account. This type of insulation typically costs more than conventional insulation materials used for internal applications, like mineral wool or polystyrene. But, on the other hand, it has a greater R-value, making it more economical in the long run.
PIR insulation can assist you in lowering your energy costs in addition to the possible long-term cost benefits. The Energy Saving Trust estimates that solid wall insulation can save annual energy costs for homeowners by up to £455. Although the precise savings will vary depending on your home's size and existing energy usage, it is evident that it can make a significant difference to your household finances.
For those who are concerned about the initial cost of installation, there are government grants and schemes available to help with the cost. Beginning in the spring of 2023, the ECO+ scheme will last up to three years. According to the UK government, new insulation will be provided to hundreds of thousands of homes, saving them roughly £310 annually. To find out if they are participating in the programme, households must get in touch with their energy provider or local government.
How to Choose the Right Boards for Solid Walls?
Thickness
The thickness available alternatives for this sort of insulation range from 20mm to 150 mm boards. The individual application and required level of insulation will determine the optimum thickness.
While choosing the thickness and dimensions of the boards, keep in mind the space available for the insulation to make sure they will fit in the area where they will be installed. Yet, the majority of 20mm boards on the market are multipurpose. They provide good insulation without taking up a lot of room. They can therefore be utilised in most projects.
Brand
Polyisocyanurate boards are produced by a variety of companies, including Kingspan, Ecotherm, Quinn, Mannok, Celotex, and others. These companies are renowned for creating PIR insulation of the highest calibre that is dependable and efficient in insulating various construction components, most notably walls.
It's necessary to compare products from several brands in order to choose the boards that best meet your needs. Consider the price, durability, and fire resistance of the insulating board, as well as other factors.