Inspiration and ideas for kitchen open shelving to help you create a beautiful and functional space in any style.
You can renovate your kitchen with open shelving to give it a more functional and attractive look. In this way, you'll have better space for movement and increase your motivation to cook hearty meals for your family.Additionally, it's less expensive, which is handy when working with a tight budget.
Regardless of open shelving's numerous advantages, note that you can have both custom cabinets and open shelves in the same space. Check out the gorgeous kitchen open shelving ideas that can inspire you.
On a side note, if you're looking for a solid water filter for your home kitchen, you can check them out here. 
1. Open Wall Shelves
Leave cabinets and shelving space open. By doing this, you can show off your kitchenware, like that you can find on ArchiPro.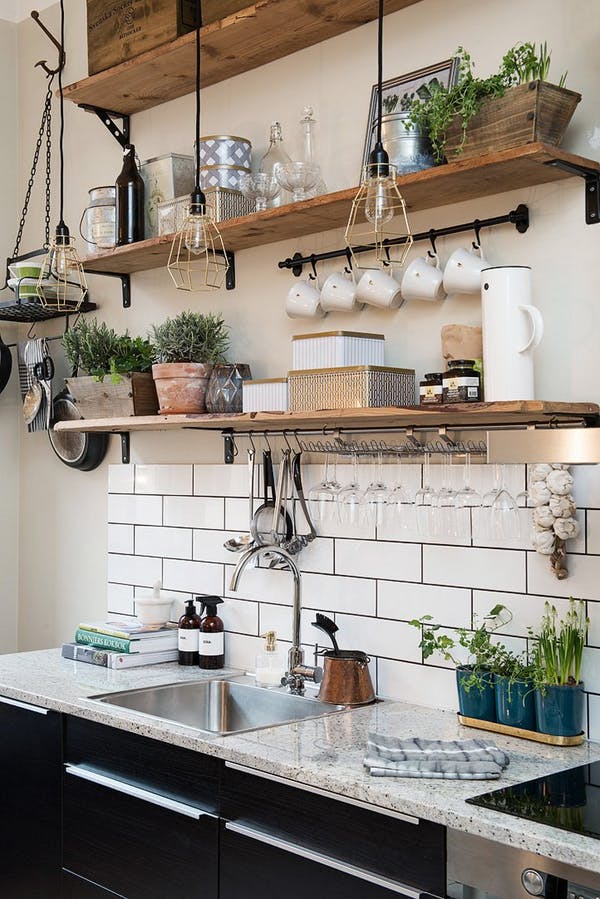 2. Open Kitchen Shelves Farmhouse Style
Farmhouse open shelves. The wood shelves against the white planked walls and the marble counter tops make a stunning focal point.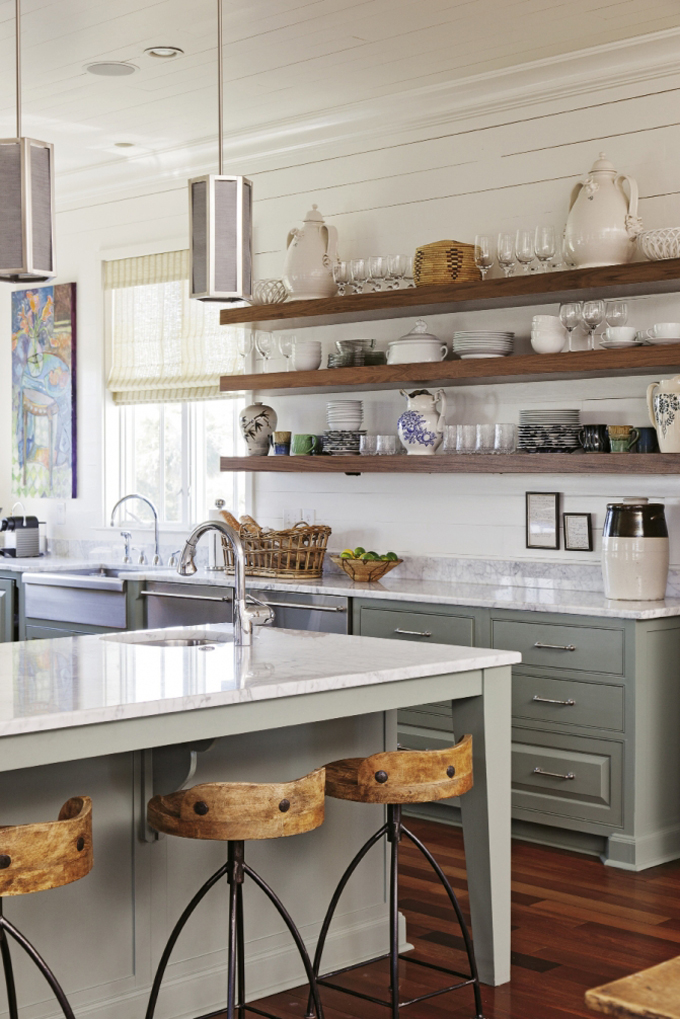 3. White Open Shelves
All white shelves blend into the white wall leaving the kitchen bigger and you can create an accent with simple dishes and utensils.
4. Suspended Brass Shelves
Make your kitchen fashionable and trendy by using brass as a material.
via www.birminghamhomeandgarden.com
5. Open Shelves & Kitchen Hood
Integrate the kitchen hood into cabinets by installing open shelves.
6. Dark Paint Turn Open Shelves Into Tiny Backdrops
If you decided to create open shelves by taking the doors off your existing cabinets, try painting the back of the shelves a dark contrasting color to make your pottery really stand out​.
7. Open Shelving Over Windows
Run transparent glass shelves across a window and fill them with beautiful objects that will catch the light.​
8. Open Shelf Rack
A full wall-length of open shelving to store the family's kitchen supplies and machinery.​
9. Open Wood Shelves Kitchen
Frame a kitchen window with open shelves without making it look too tight.
10. Boho Kitchen Shelves
11. Reclaimed Barn Beam Shelves
Consider adding small shelves to available small spaces for extra storage and accent​. The shelves are made of reclaimed barn beams.
12. Rustic Open Shelves
Open shelves line the wall between the stove and sink​
13. Beautiful & Functional Kitchen Shelves
Open shelves on either side of the stove and next to the sink. The shelves were made with metal tubing and salvaged Indonesian hardwood.​
via www.hgtv.com
14. Colorful Shelves
Brightly colored shelves in bohemian-chic kitchen. Color provides uniformity and a clean look, no matter how bold your color choices are.​
15. Open Shelving with a Theme
Display things that look good together. Pick colored dishes, your favorite antique items, teacups or anything else that will look good together
via www.kitchensourcebook.co.uk
16. Open Shelving Idea
Take advantage of the space above islands, bar carts and bookshelves for extra storage, but make sure it still looks stylish and clean​.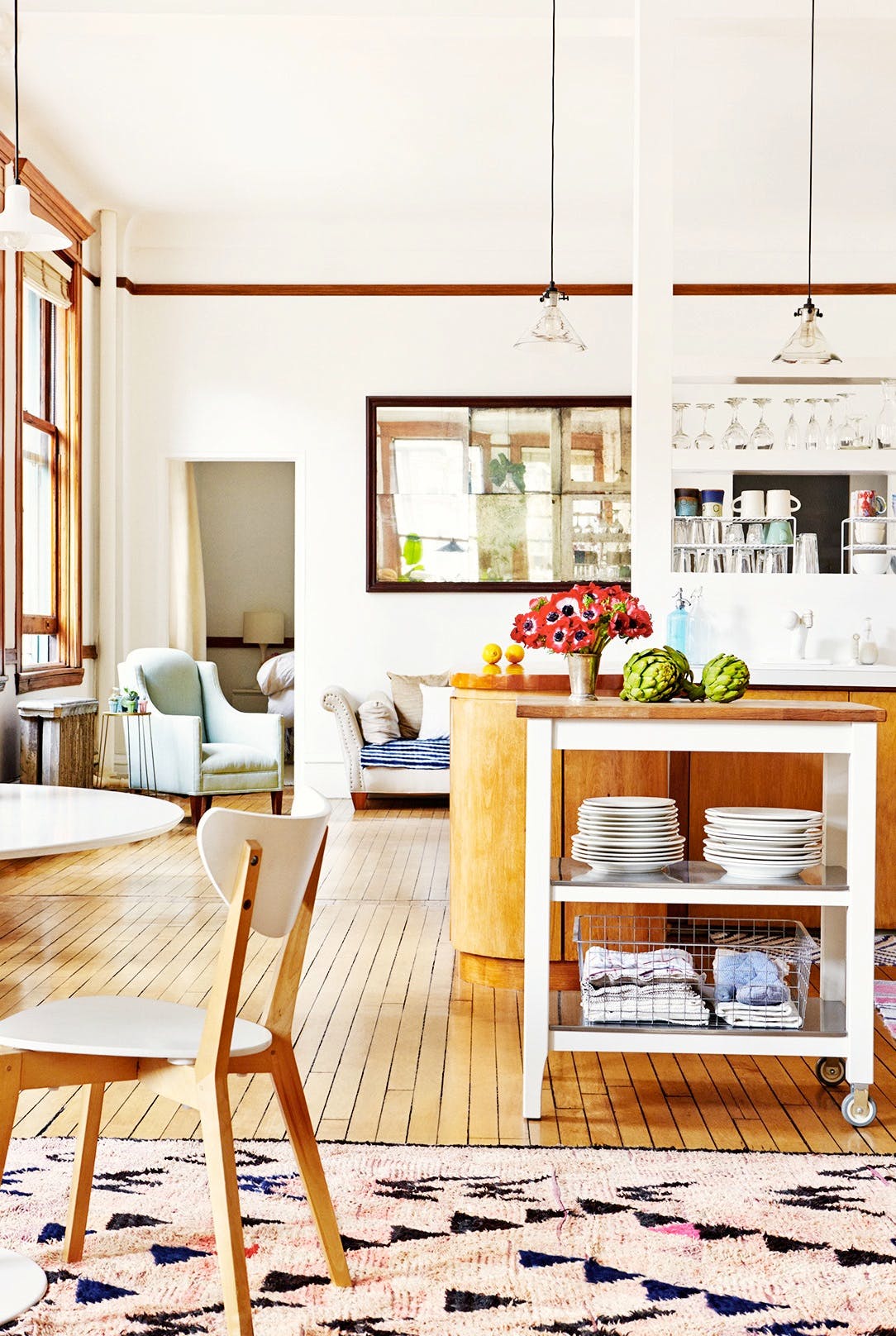 17. Rustic Wood Shelves
Industrial-look shelving made from plumbing pipes and reclaimed wood offers plenty of open storage above the cabinets.
via www.hgtv.com
18. Baby Blue Oven and Open Shelving
White kitchen with a baby blue oven and open shelving.
19. Brick Wall with Built in Shelving
Wooden shelves blend into the brick wall.
via www.deucecitieshenhouse.com