Like the ducted variety, central air conditioners employ a duct system to send conditioned air to every room. Ducts are typically concealed behind walls and ceilings; a single thermostat manages the entire system. Compared to other forms of air conditioning, ducted systems are more costly, but they offer several benefits that justify the added expense. First, it is highly effective since the air conditioning is brought to every room. Ducted air conditioning is also very quiet, making it a great choice for bedrooms and other areas where peace is prioritized.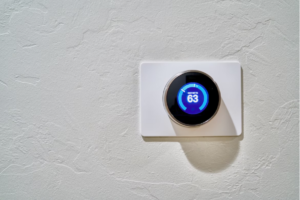 How do the Ducted Air Conditioners Work?
Each room in your house can be individually controlled for temperature with a ducted air conditioning system that distributes air through a network of ducts. Comfortable indoor temperatures are maintained all year round by circulating conditioned air through a network of ducts. By saving you money on your monthly energy bills, air conditioning ducted systems keep your home at a comfortable temperature year-round. They also don't make much noise, so they're great for bedrooms and other places where you want to minimize disruptions from ambient noise.
Comfortability
With a split system, you can chill the space or area where it is situated. To increase the unit's efficiency, that space must be sealed up. If your house isn't set up for communal living, that's a potential issue. You'll need to invest in a more robust and pricey cooling system to cool larger areas effectively. Installing a split system in every room would be impractical and expensive, so you must carefully choose which rooms or zones to cool. Ducted air conditioning, unlike split systems, allows you to cool the entire house with a button. The core component is hidden, typically in the ceiling. By a network of ducts, cooled air is distributed to outlets. That means you may move about your house more freely without constantly needing to open and close doors. Whole-house parties are also much easier to organize with ducted air conditioning. You aren't closing off parts of the building to reduce the temperature. With ducted air conditioning, you can covertly lower the temperature without being subjected to a jarring, arctic blast above your head.
Air Conditioner Works Flawlessly with Your Lifestyle
You may customize your ducted air conditioning system to suit your needs and preferences best. Air conditioning can be programmed to turn on at a specific time of day using the timer features found on most ducted systems. Ducted systems with Wi-Fi connectivity allow you to fully automate your cooling system and control it anywhere in the world with a smartphone or other device. When you set up the ducted air conditioning, you can switch to the heating mode in the winter to make the most of your air conditioner. With reverse-cycle ducted air conditioning, homeowners can heat their homes without the expense and inconvenience of installing a separate heating system.
Ducted Air Conditioning can Save you money in the Long Run.
Ducted air conditioning does cost more upfront than a split system, but it provides better long-term savings. Yet, ducted air conditioning can help you save money in the long term. To begin, additional costs will be associated with the installation of additional split systems in the home. Then you'll have per-unit servicing and upkeep expenses to consider. The sum is greater than the parts. If you don't get your split systems regularly serviced, having multiple air conditioners increases the likelihood of a breakdown when you need it most.
Ducted air conditioning is an excellent option if you're concerned about wasting energy cooling spaces that aren't in use. You may turn off cooling in unused areas of your home by installing a ducted air conditioning system that can be "zoned." A properly zoned ducted system, for instance, lets you chill the bedrooms at night while leaving the living areas comfortably cool throughout the day; in the long run, that might save a ton of money. An energy efficiency star certification is not required for ducted air conditioners. Ducted air conditioners may be compared in terms of their energy efficiency thanks to labels and product information availability. Your AC technician should be able to help you with the setup process. This way, you can select the home heating and cooling system that best fits your energy requirements, preferences, and floor plan. 
Ducted Air Conditioning Improves the Value of your Home
Investing in ducted air conditioning is a smart financial move if you intend to sell your property. Although ducted air conditioning is becoming more reasonably priced, many still consider it a luxury. That's why, if compared to similar properties without ducted air conditioning, yours will look like a better investment. That is precisely what ducted air conditioning provides, a reasonable value for your home if you decide to sell it in the future. A well-maintained ducted air conditioner may find a buyer faster than one without.
Adds to Aesthetics
The way you decorate your home says a lot about you as a person. If you have a ducted air conditioner, you have more room to show off your style. This is because ducted air conditioning systems are much less noticeable than split or multi-split ones. The central air conditioner is often installed in the attic, with ducts bringing cooled air to vents throughout the house. Comparable to an iceberg, the only parts of a ducted air conditioning system that are exposed are the controller, the return, and the vents in the ceiling. Hence, feel free to decorate each space as you see fit. You won't have to install a large device on the wall and lose that area.
The advantages of ducted air conditioning versus other systems are numerous. An air conditioner with ducts may chill or heat a whole house, while another system will only cool or heat the room in which it is installed. Because of this, ducted systems can save money on cooling and heating by directing air only to occupied rooms. Because the indoor unit can be concealed in a discreet location like an attic or crawl area, ducted systems are also more aesthetically pleasing.