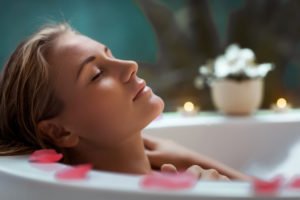 With all the hustle and bustle of everyday life, it can be tough to relieve stress during weekdays. It's difficult to find time to insert some pampering time, especially when you're also committed to personal responsibilities and obligations. You can only schedule a spa day in your free time during weekends, and that's not even a sure deal as there could be additional errands to do at that time. 
The best solution to this predicament is to turn your home into a spa. It'd be ideal to have a haven in the comforts of your home where you can relax after a long and stressful day at work. Imagine soaking in a hot jacuzzi, with solemn music playing in the background and smelling the sweet aromatic fragrances in your indoor atmosphere.  
If this is what you envision in your mind, you can make this happen by transforming your home into a spa through these steps. 
One of the essential components of a home spa is installing a stainless plunge pool. There have been a lot of known benefits of using one for your tired and worn-down body. While it's great to invest in swimming pools that are large and can be used for swimming, lounging, or exercising, the next best alternative is to go for plunge pools instead. They are smaller and won't require much space for your indoors.  
Plunge pools are small pools commonly used in spaces with limited space. A typical plunge pool measures slightly larger than a hot tub. No matter what design you prefer, there are a wide variety of plunge pool styles perfect for your preferences, needs, and budget. 
If you want to cool off during the summer heat or relax through some hydrotherapy and low-impact exercise, plunge pools can be your best friend. There are other customizable features that you can add for these small pools too.  
Invest In Stoked Hot Tubs  
A hot tub could be the perfect way to relax after a long day at the office. If your ordinary bathtub isn't cutting, it's best to invest in stoked hot tubs. The warm bubbly water on this stainless and wooden tub is enough to make you feel at ease and relaxed. It also alleviates any pain you have, like fibromyalgia, arthritis, and low back pain.  
An evening soak in a hot tub can be the perfect therapy after a long, hard day. A hot tub may not only help you relax but may also provide other benefits. You can share a romantic moment with your partner as you massage each other's temples and shoulders and release stress during a warm bath. 
Hot tubs come with benefits that are unknown to many. You can soothe your body with warm water for several reasons. When you're heated, your blood vessels widen, allowing nutrient-rich blood to flow throughout your body. It also helps to reduce swelling and loosen tight muscles. Soaking in a hot tub is the best relief if you find your body sore from standing or sitting all day. Aside from the physical benefits, you can also ease the tension in your mind when you soak for a night bath. 
Add Aromatherapy Into Your Home  
Another key characteristic of spa environments is the pleasant smells surrounding each corner. For this reason, you probably look forward to your spa day. The good news is that you can also mimic and copy this environment in your home. Aromatherapy can be easily incorporated into your home. There are many aromatherapy oils to choose from. You can boost your mood by choosing any scent that you enjoy.  
The sense of smell is closely related to our emotions, making it a valuable and therapeutic component of a holistic approach to wellness. Ensure you're using pure essential oils without chemical fillers by buying high-quality products from reputable companies. You can choose peppermint, tea tree, lavender, lemon, eucalyptus, etc. " Essential oils have healing properties that will ease your body and mind."
Finally, a home spa won't be complete without the sound of water or waves gushing from the speakers. Play some relaxing white noise music by finding a playlist on YouTube or other platforms.  
Aside from water, other relaxing music or sounds get you in the mood for a pamper session. Simply turn off other devices and play this music in the background while you soak in the tub or lounge in the pool. This will allow you to meditate, focus on the moment, and relax well. 
Not only are candles used in spas for their scents but also for the lighting they create. It's possible to create a rather holistic experience by lighting a few candles in a darkened room. The warm light that candles bring also contributes to your relaxing state. Decorating your home with more candles can certainly elevate the spa feel of your home. 
Conclusion  
You can create a spa experience at home by investing in luxury amenities like the ones mentioned above. While they may require some monetary investment, you'll find that their benefits will outweigh their cost. You'll definitely be able to relieve any tension you feel, even during weekdays when you have a spa in your home.