First impressions really do count – whether it's in a job interview or the entrance of your home. Your hallway should be kept clean and organised to set the tone for the rest of the home. All too often, our hallways become cluttered with old shoes, school bags and coats. You struggle to open the front door because of all the stuff blocking the entrance to your home. It can make you feel stressed and irritable every time you come home. 
Let's set a different mood in your home with a freshly organised hallway. Here are a few tips to get you started.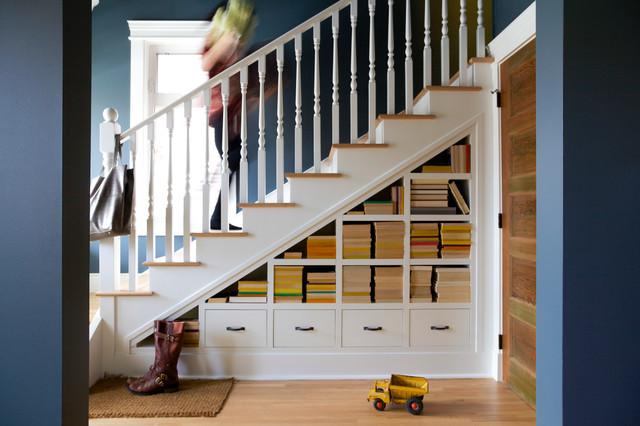 Install storage
If your hallway collects miscellaneous items – you need more storage. There's no point trying to squeeze all your shoes into a tiny basket. You need a storage system that works for your family and caters to your chaotic lives. Install a wardrobe under the stairs to store your coats and shoes out of the way. Set up a rail with hangers and a shelving unit for the shoes. Place a few hooks on the wall for the kids' school bags and a small bench for them to sit on. Practicality should be the priority of your hallway. 
Declutter
If you have too much stuff in the hallway, it might be time to declutter. Go through all of your belongings and throw away any rubbish. You might find a few stray socks, letters or newspapers on the floor. Remove anything that does not belong in the hallway and find somewhere else to store it. 
Dedicated spaces
The hallway is filled with items you need on an everyday basis, like your car keys, coat, umbrella, wallet and shoes. These things should be easily accessible and organised. Losing one of these things could quickly turn your day into a nightmare. Keep a small dresser by the door with a mirror above and a hook for your keys. Put a small tray on the dresser for your wallet, spare change and spare keys. Get into the habit of leaving everything in this area when you come through the door. You can even check your lipstick in the mirror. 
You could have large vases to hold umbrellas and a railing just for the kids' bags and coats. Divide the space into areas, like kids stuff, essentials, shoes and coats. Each member of the family should have their everyday coat and shoes in the hallway. Keep your other coats and shoes in your bedroom wardrobes. There's no need to have all of your coats cluttering the hallway. Besides, how often do you actually wear your formal dinner coat? 
Keep your hallway stylish and clutter-free with these tips and tricks.