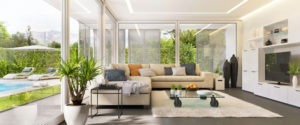 In the past, indoor and outdoor decorating have always been separate. Plants often didn't make it inside the home, nor would the usual indoor-like decorative pieces make it to an outdoor space. This notion may not necessarily be true since outdoor living areas, dining rooms, and kitchens are becoming prevalent.
More often than not, the indoor is often given all the attention when designing a space. The outdoors are left as an afterthought, often leaving homeowners with little left in the budget. For instance, to 'go big' with outdoor décor. However, this shouldn't be the case for a well-designed and coherent home.
Your property's outdoor décor should be given as much thought as that inside, so your outdoor space won't look left out and rushed. This can make your property as inviting on the outside as it is on the inside, particularly now that entertaining outdoors is becoming quite popular.
Hence, architects, interior designers, and homeowners are encouraged to have that perfect indoor-outdoor balance with their décor. This article gives you a gist on achieving a perfect balance between indoor and outdoor spaces.  
Provide Shelter
Say you have a sprawling backyard. But, as of the moment, it's simply an open space with no functional areas to lounge or relax. You have outdoor seating on a deck, but you haven't spent much time outdoors as there's nothing to shield you from the sun. If that's the case, you're wasting the space and hampering the design and décor possibilities you can have for your home. 
Now may be a good time to 'provide shelter.' This means building roofing on some of your outdoor spaces, like a pergola or glass-roofed canopy, from suppliers like Hardie Boys, among others. Make it permanent, so you won't have to worry about the wind blowing those plastic tents off. Design-wise, those can be quite unattractive.
Building beautiful roofing over your outdoor spaces gives you more leeway now to decorate as you would your indoor space. Because you don't have to worry about the rain and the sun, you can go big with your outdoor décor, too.
Here's a bonus for you: visit websites like hardieboysinc.com. They have experts that can help you get started on your various selections of outdoor roofing and spaces.
Harmonize The Color Scheme
Decorating an outdoor space can feel limiting, especially when your outdoor areas may not be covered. You have to factor in theft and exposure to the harmful elements of the weather, choosing only decorations that can withstand both. With that, designers must be more intentional about designing indoor and outdoor spaces before the decorations are considered. You can blur the line between those areas by adopting similar colors and styles between a home's outdoor and indoor spaces. 
One of those elements is the color scheme. Naturally, there'll be a lot of earthy colors in your outdoor space, like browns and shades of green. If you have water features, that's when hues of blue come into the picture. 
When repainting your indoor spaces, consider harmonizing the color scheme to freshen up your living space. This means having brown, green, and blue indoors as well. Aside from paint color, there are many facets of your indoor decoration where those earthy elements can be implemented, like wicker chairs, raw edge tables, and abaca mats.
Introduce Glass Doors In Living Spaces
Make your home feel bigger by breaking down walls and replacing them with glass windows and doors instead. This can be done if privacy isn't compromised, as you have a high fence or live far from your neighbors.
Having glass doors in a home's living space is one of the best ways to balance the outdoors and indoors. Decorating your indoor space won't be as challenging anymore when the outdoor view already serves as a decorative element per se.
On top of the aesthetics, there's also the functionality of big glass doors. Having lots of natural light going through your home is as good for your health as it is for your home's design. Moreover, you can maximize the power of natural light during the day by switching on fewer lights—your wallet may thank you too! When the weather permits, opening your glass doors also brings a lot of fresh air to your home.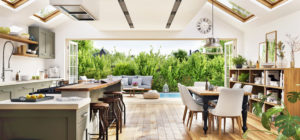 Bring Nature Inside
Lastly, bring nature in. Artificial plants have long been used to decorate homes, but if you can take it up a step higher by opting for real plants, do so. Having natural plants around your indoor space doesn't just make it look more relaxing and serene. It also helps purify the air. Just imagine walking through a resort where you have foliage and plants left and right. You can have that same feeling in your home when you fill empty spaces with plants, one room at a time.  
Final Style Tips
Achieving a perfect indoor and outdoor balance is the epitome of luxury living. You don't need the biggest house on the block to come home to your piece of heaven. As you can see from the tips above, the key is understanding the relationship between both spaces so as not to treat them separately when decorating. Your home can be your very own sanctuary when you know how to balance indoors and outdoors and achieve a seamless flow and coherence in the process.