As a homeowner, you most likely take great pride in your property. Having a home that's head-turning starts with your lawn. Some are lush and green while others are soggy and waterlogged and never seem to drain properly. Standing water can cause a range of other issues, and until you find the culprit, you're stuck with more of a marsh than a lawn.
If you're at a loss for its cause, contact the Illinois experts in lawn drainage services with Ware Landscaping. Their team of lawn drainage experts will evaluate your situation and determine what's the best solution. Don't live with a swampy lawn, give the experts a call today.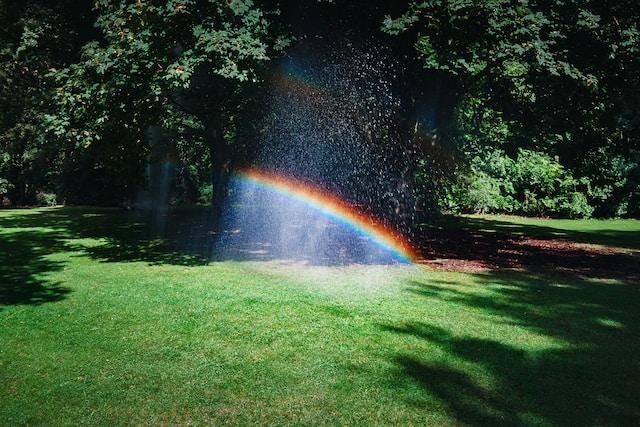 A Guide To Achieve Perfect Lawn Drainage
Efficient lawn draining serves two purposes. It keeps your yard dry, but more importantly, it protects your home from being ravished by standing water. Excessive water can lead to foundation issues and flooded basements. The goal of perfect lawn drainage is to move water away from your home. There are several methods for doing so. We'll cover what you need to know. For severe property flooding problems, you may want to consult with a landscaping professional.
Build Up Those Low Spots
Some properties have dips and low spots that will naturally collect rainwater and are slow to drain. The solution is to build up these areas and ensure that they are more level which will prevent pooling.
This will require removing the grass in these areas, adding topsoil mixed with compost, and building up the areas slightly higher than the surrounding area. Once the areas have settled, sow grass seeds and cover them with a layer of hay.
Aerate Your Lawn
Sometimes lawns won't drain properly due to overly compacted soil. If this seems to be the issue, it can be solved by using aeration techniques. The cheapest way is to use a pitchfork and jam it into the ground leaving row after row of holes. They'll allow air and nutrients to reach grass roots which can promote a healthier lawn while also allowing water to drain more easily.
For homeowners with larger lawns, they can purchase special law aerating clip-ons. These attach to your shoes and have long metal spikes that will pierce the ground with each step. Simply walk on your property, and each step will leave an aerating hole in the ground.
Install Channel Drains
Sometimes referred to as a French drain, channel drains are required for lawns that are difficult to drain. Installing one may not be suitable for a DIY homeowner unless they have a good understanding of engineering, although it can be done. Channel drains require digging trenches lined with gravel and placing pipes that lead away from the home. They're then filled in with topsoil and can be seeded with grass.
Slope the Ground
One of the most effective ways to naturally draw water away from your home is to slope the ground away from your home. This method could prove to be time-consuming and is best done by a professional landscaping service. Ideally, you'll want to gradually slope the land at 1-inch intervals per foot. Using topsoil may not be the best choice because it can be easily washed away. A better choice is to use a more clay-like soil that will stay in place and allow the water to flow downwards and away from your home.
Install Downspout Extensions
Homeowners who have issues with ponding water around their home's foundation can eliminate the problem by installing downspout extensions. They can be purchased at most big box stores and are incredibly easy to attach to your existing downspouts. They function by moving rainwater further away from your home's foundation and can be directed to a natural downgrade. Gravity will take its course and move the excess water away from your home.
Build a Dry Creek Bed
Instead of moving mountains to divert standing lawn water to where you want it, why not pretty up the area where it seems to naturally build up? Building a dry creek bed not only eliminates the issue of standing water but also creates a new look for your property. With minimal effort, you can dig a slight trench to naturally draw water toward the edge of your property and fill it with river stones.
Perfect Law Drainage Explained
Standing water on your property can be a nuisance. Pooling water can damage both lawns and a home's foundation but can also provide a breeding ground for unwanted summertime insects. Rather than leave your home vulnerable to damage and insect infestation, there are several methods to ensure that your property drains properly. This can be achieved by building up low-lying areas, adding downspout extenders, or simply aerating your lawn.
Homeowners who've tried to battle unwanted water pooling on their properties but haven't had much success may want to employ a landscaping specialist who can do the job the right way. The initial expense is far less than repairing a damaged home foundation, and you'll be left with a much better looking property. Don't delay; call a lawn drainage specialist today.