What are the disadvantages of extendable dining table?
Extendable dining tables are a popular choice for many homeowners due to their versatility and space-saving features. However, like any piece of furniture, they come with their own set of disadvantages. In this section, we will explore the drawbacks of extendable dining tables to help you make an informed decision when choosing the right one for your home.
Limited Size and Shape Options
One of the primary disadvantages of extendable dining tables is that they often come in limited size and shape options. While traditional non-extendable tables can be found in various sizes and shapes, extendable tables typically have a standard shape when unextended. Common shapes include rectangular or oval, and you may have fewer choices when it comes to finding a circular or square extendable table. This limitation can be a downside if you have a specific size or shape in mind for your dining area.
Extendable dining tables rely on mechanisms that allow you to extend or reduce the table's size. These mechanisms can be quite complex, involving hinges, locks, and sliders. Over time, these mechanical parts can wear out or malfunction, causing the table to become unstable or difficult to operate. This complexity can also make it challenging to repair or replace damaged components, potentially resulting in costly maintenance.
Extendable tables are often heavier and bulkier than their non-extendable counterparts due to the additional components required for the extension mechanism. This extra weight and size can make moving and rearranging the table more challenging, which may not be ideal for those who like to frequently change the layout of their dining space.
Extendable dining tables are generally more expensive than standard dining tables. The inclusion of the extension mechanism, quality materials, and craftsmanship can drive up the cost. While they can be a worthwhile investment in the long run, the initial price tag might be a deterrent for some budget-conscious consumers.
As mentioned earlier, the complex mechanisms in extendable dining tables can require regular maintenance. Dust and debris can accumulate in the moving parts, leading to operational issues. Keeping the table clean and well-maintained is essential to ensure its longevity. Additionally, the need for occasional tightening of hinges and locks can be a hassle for some users.
Seating Arrangement Challenges
When an extendable table is fully extended, it may accommodate more guests, but it can also create challenges in terms of seating arrangements. You may need to consider purchasing additional chairs or using smaller chairs for extended configurations, which can impact the aesthetics and overall comfort of the dining area.
Extendable tables often have a noticeable seam or gap where the extension leaves are inserted. This seam can disrupt the visual consistency of the table and be a point of concern for those who prioritize aesthetics in their dining room. While some tables are designed with hidden or inconspicuous seams, they tend to be more expensive.
Types of Expandable Dining Tables
Drop-leaf tables are a classic type of expandable dining table. They feature hinged leaves on either side of the table that can be lifted to expand the surface area. When not in use, the leaves can be folded down, making the table compact and space-efficient. Drop-leaf tables are ideal for small dining spaces and casual dining.
Also named stowaway leaf table, the distinguishing feature of a stow leaf table is the way its extension leaves are stored. Instead of having leaves that are separate or hidden beneath the table, stow leaf dining tables have the leaves incorporated into the table's structure, allowing them to be "stowed" or neatly tucked away when not needed.
Butterfly leaf tables have a self-storing extension leaf that is usually concealed beneath the tabletop. To extend the table, you simply need to unlock the latch and unfold the leaf, resembling a butterfly's wings. This design allows for easy expansion without the need for extra storage space for extension leaves.
Gateleg tables are another space-saving option. They have hinged legs that swing out to support the extended leaves. When not in use, the leaves and legs can be folded down, reducing the table's size significantly. Gateleg tables are versatile and can serve as a dining table or a console table when folded.
Extension Tables with Separate Leaves
These tables come with separate leaves that can be added or removed as needed. This type offers maximum flexibility in terms of the number of people you can accommodate and the shape of the table. You can add one or more leaves to customize the size according to your requirements.
Flip-top tables have a top that can be flipped open to reveal an extension leaf hidden underneath. This design is convenient for those who want a seamless look without visible seams or gaps when the table is extended.
How to Pick up an Extendable Dining Table
Choosing the right extendable dining table for your home involves careful consideration of various factors. Here's a guide on how to pick the perfect table for your needs, especially for a small space.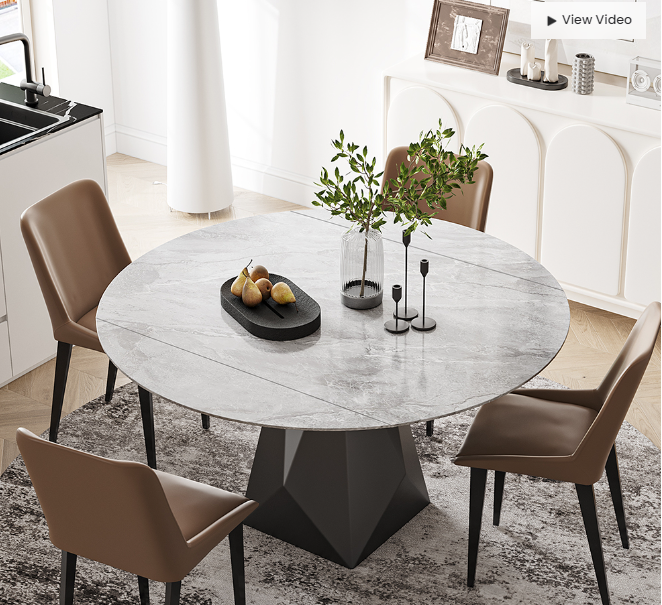 Start by measuring your dining area to determine how much space you have available. Consider both the dimensions of the room and the space required for chairs and movement around the table. Ensure that the table, when extended, fits comfortably within your dining space.
Think about the shape of the table that best suits your room and preferences. Rectangular tables are common and offer a traditional look. Round expandable tables can be great for creating a cozy atmosphere and facilitating conversation. Choose the shape that complements your room's aesthetics and layout.
Select a table that matches your interior décor. Extendable tables are available in various materials, including wood, glass, metal, and more. Consider the style, color, and finish that best complements your existing furniture and design.
Examine the extension mechanism of the table. Some mechanisms are easier to operate than others. Look for smooth and secure extension processes to ensure convenience and longevity.
Determine the number of people you need to accommodate regularly. An extendable table should be able to comfortably seat both your immediate family and any additional guests when extended. Remember that the number of leaves or the table's design can affect seating capacity.
Aesthetics and Seam Placement
If the visual consistency of the table is essential to you, pay attention to where the seams or gaps appear when the table is extended. Some tables are designed to minimize the visibility of these features, while others have more noticeable seams.
Set a budget for your space-saving dining table purchase. Consider not only the initial cost but also any potential maintenance expenses in the long run. While high-quality extendable tables may be pricier, they often prove to be a better investment due to their durability.
Research different brands and read customer reviews to determine the quality and reputation of the manufacturer. A well-regarded brand is more likely to provide a durable and reliable table.
Extendable Table Care Tips
To ensure the longevity and functionality of your expandable dining table, follow these care tips:
Dust the table and clean it regularly with a soft, damp cloth to prevent the accumulation of dirt and debris, especially in the extension mechanisms.
Be mindful of the weight placed on the table, especially when it's extended. Avoid overloading it, as this can strain the extension mechanism and lead to damage.
Use Placemats and Coasters
Place placemats and coasters under dishes and glasses to protect the table's surface from spills, heat, and scratches.
Protect from Direct Sunlight
Position your table away from direct sunlight, as prolonged exposure can cause the wood or finish to fade and age prematurely.
Periodically check and tighten any loose screws, hinges, or locks to maintain the table's stability and functionality.
Follow Manufacturer Guidelines
Always follow the care and maintenance guidelines provided by the manufacturer to keep your extendable table in the best condition.