Welcome spring into your home with these beautiful and inspiring rustic decor ideas for your kitchen, living room, dining room, entry room, and more.
Marvelous Farmhouse Style Living Room Design
Marvelous farmhouse-style living room design idea with spring decor accents.
Hopefully, this will give you enough imagination and thereafter fire you up to get down to the design element you longed for, for so long. Some amazing back-to-nature-inspired ideas to feel so much in touch with simplicity, but principle with nature. This is the same if you live in a barn, or in a brand new apartment living the city life. We reckon it is vital to add nature, welcoming it into our homes since they are taking it away from our outdoors. Add unpolished woods, natural plants, and soft cushioning and in all seriousness, you're halfway there.
Rustic Farmhouse Mason Jar Planter
Great way to display some greenery and flowers.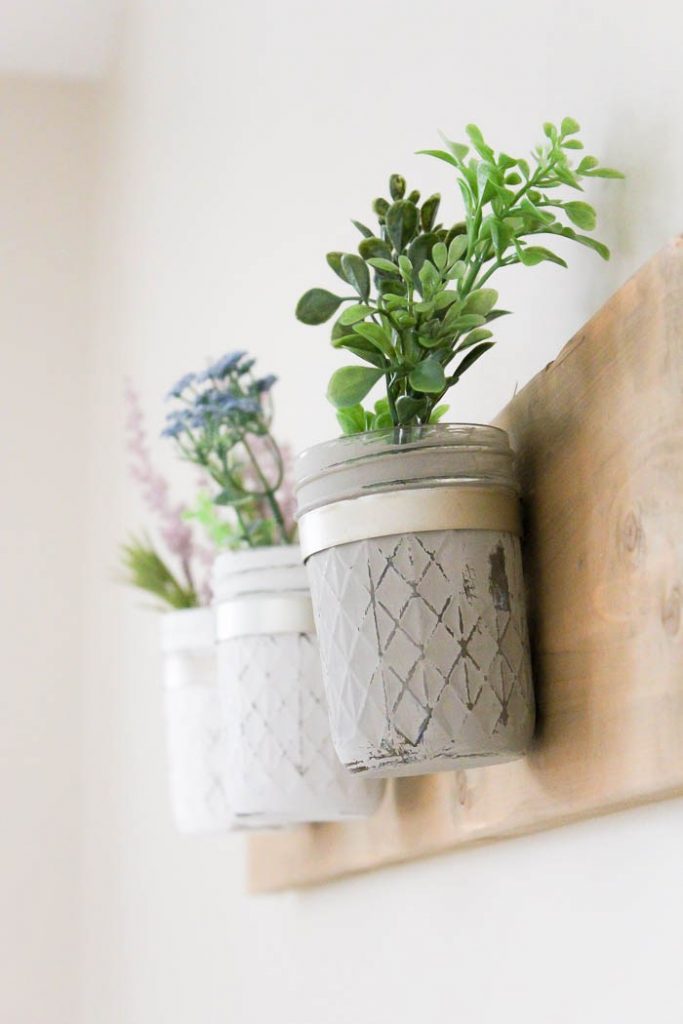 To compliment all of your efforts in combining style and nature in your home here is a really simple and inexpensive way to continue the flow. This is done with mason jars. Yes, we have them on our kitchen tops, but we might have thrown a couple away not knowing what to do with the rest. A little paint will surprise you on how much can be done using such simple ABC tutorials. You won't have to use real plants for these, but if you were, best use succulents as they are super simple to look after. And no matter what people say, you can tell real from faux!
Hanging Flowers and Plants with Vintage Ladder
This hanging flower display can bring a lot of country charm to your entry hall!
Entry halls usually consist of shoes, and more shoes, parcelled everywhere where there is space leaving just about enough "corridor space" for you to walk up and down to your living room. We say these times are gone! The first impression when entering your home, let alone new visitors, is that you immediately feel at peace with all that happened away from within your home walls. This is one of the most beautiful ideas to create a hall into a sanctuary of plants with that jungle, rawness feels to it.
Farmhouse Wildflowers Garden
Country farmhouse wildflowers garden on an old bleached vintage wooden chair.
Old wooden furniture is so underappreciated. And so are dirty and old terracotta pots. We look at them, all weathered up, and think, let's buy new. Always about buying new. But how about thinking about it for a second. Like an angry animal, give it some love and a few hugs and the beast becomes the most adorable of creatures. Well, this is the same! Use a little sanding paper, which yes, will take time, but the result is a beautiful shabby mess. And this goes well in even the most modern of rooms known to mankind! It really does. And, it will make you respect wood in all its beauty even at its worst.
Rustic Box with Yellow Tulips
Maybe you came across an old toolbox, admired it but thought, what to do with it? Well as it turns out, not much actually. The answer is in front of you and was just so all along. Line the inside of the toolbox with pond lining or indeed a thick plastic bag attached to the sides in order to stop the weathered process. We reckon tulips work best, but then again, whatever tickles your fancy will always be the better choice. Place this on a mantel, shelving unit, or as a centerpiece on your dining table, or just about anywhere that you think works best for you.
Mason Jar Pink Flower Arrangement
Freshen up your home for spring with an easy farmhouse-style spring mason jar pink flower planter.
Get ready for spring and get ready for summer. It's coming! And if it has already come for you, it is never too late! Enough of the rains, the clouds, and the grey skies and time to innovate embracing the beauty of nature resurfacing from the earth, literally. This arrangement really adds superb detailing to your home, whether indoors or for the outdoors underneath the porch for instance. Once painted, use a little sandpaper to distress it a bit, looking weathered up matching the season perfectly.
Rustic Floral Spring Wreath
This tutorial isn't just about how or where to include the wreath in your home, but the entire display step by step. You can add, take away or change certain steps, but this gives you fabulous ideas on how to potentially get very creative with the simplest of items; and without going overboard financially. This arrangement will fit perfectly in a barn-style home, in the mix of nature and natural elements. Always include plants in your design as they will help to tone down the image.
Farmhouse Wooden Box Spring Centerpiece
This DIY farmhouse box is made entirely from scraped wood, a little paint, and a few nails. That's simple. But look at the finished product! We are quick off the embark to put our hands in our pockets impulsive buying, but when we see what can be done in no time at all, and certainly quicker than hopping in the car, hitting traffic and not finding a space to park and the rest, it actually will take anyone less time to put together from scratch without the stress of life coming in between. You can put this as the centerpiece of the dining table, or as a window box even.
Bucket of Flowers Spring Centerpiece
DIY Bucket of Flowers Centerpiece. Beautiful farmhouse centerpiece for spring.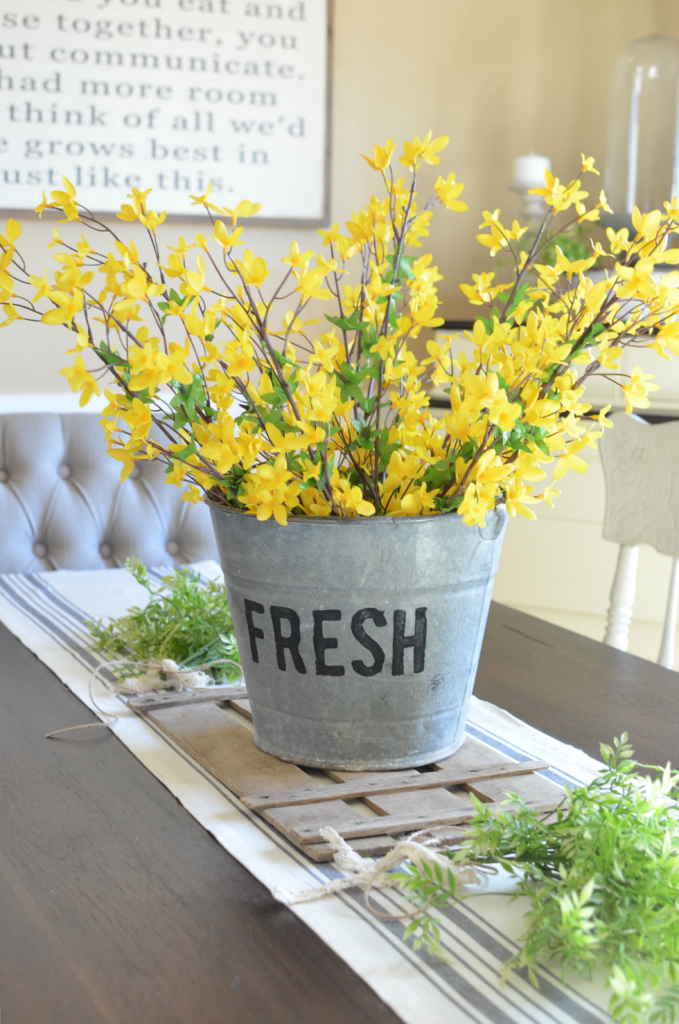 When many of us think about DIY, we think about big tools and an expensive or extensive workshop in the garage. Well, not really no. DIY is all about taking a simple item, looking at it, and thinking…what can I do with it since it's already here with us? This bucket is simply, an unloved bucket, with a little writing on it and the most beautiful of wildflowers from the garden or from your favorite summer walks. Add a message, could be love, fresh, family, or whatever makes life important to you.
Faux Leaves Spring Centerpiece
One could bring the outdoors to the indoors for so many reasons. Could it get too hot, or too cold for long periods of time? Or simply you live in the city where trees and nature are rarer than your next-door burger place. Whatever the motive, by no means does this look out of place in most home decors. In fact, it brings so much positive energy to any room in the house. And all it took is an old milk jug looking old and fabulous, or any weathered container you can put your hands on, a few branches fallen from the trees, fallen natural leaves, or thin paper cut out as leaves, stuck on the smaller branches with glue or simply tiny pegs.
Farmhouse Galvanized Bucket Spring Decor
Curly willow branches and fake blossoming branches in a tall galvanized bucket.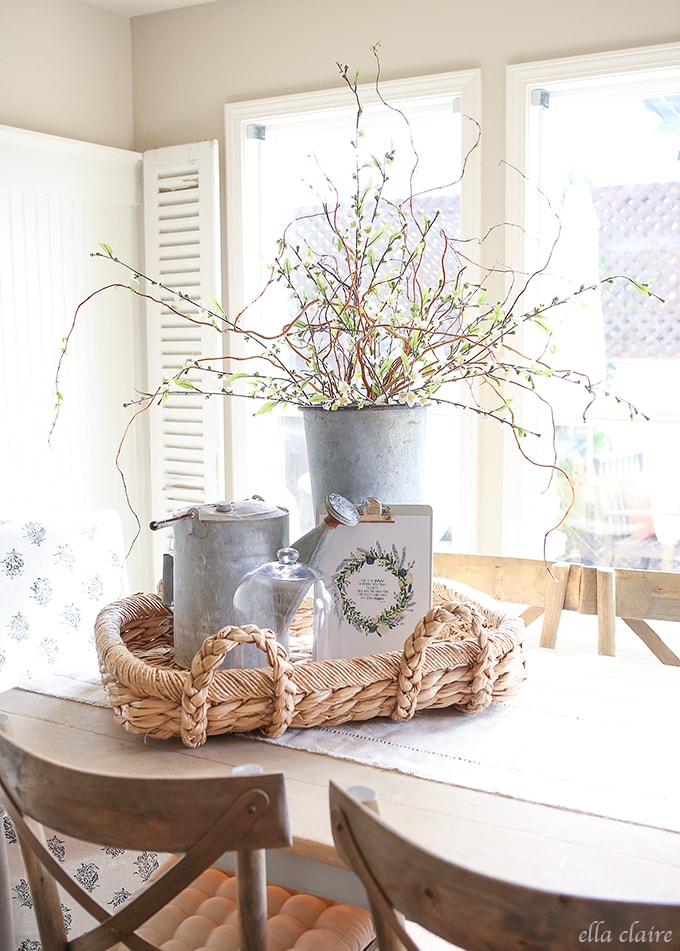 Galvanised buckets scream industrialism. Perfect in a home where metal, natural woods, and soft furnishing are all joining the action. You'll need to "borrow" a crate from your mom, maybe cut out some flowers from her garden without her noticing and you are good to go for your home decor! This lovely display does make your home feel like a home and it gives it bags of character. Marry the lot with various other galvanized vessels adding continuity to your decor.
DIY Metal Flower Market Bucket
Love a modern farmhouse look for less? Make your own DIY Metal Flower Market Bucket in just a few easy steps!
Places like pottery barn have some of the most desirable vintage-looking items you'll ever get to see but at a price. Whereby if you do a little hunting as you would for a place to park your car for that shopping escapade, then you could be in for a surprise. And the distressed look will be natural holding bags of history too. How cool is that? And for free most of the time! Fear, not rust is beautiful. It is the natural product of our planet. Don't be afraid of it but embrace its design warmth. If you cannot find a wethered bucket, fear not, there is a solution on this link!
Farmhouse Style Tulip Decor
Get your home ready for spring with beautiful colorful tulips.
If you have a mantelpiece, you may wish to change it as the season's change. Embracing the numerous colors life throws at us. And if for now, tulips are in, then you are in luck. The idea is really lovely and ever so simple without fussing around too much in the finer details. It is a bold expression of simplicity. Get yourself a day out in your favorite yard sales, and gather some really unique, pure items to compliment your home, giving used items a new lease of life.
White Tulips and Rusty Aluminum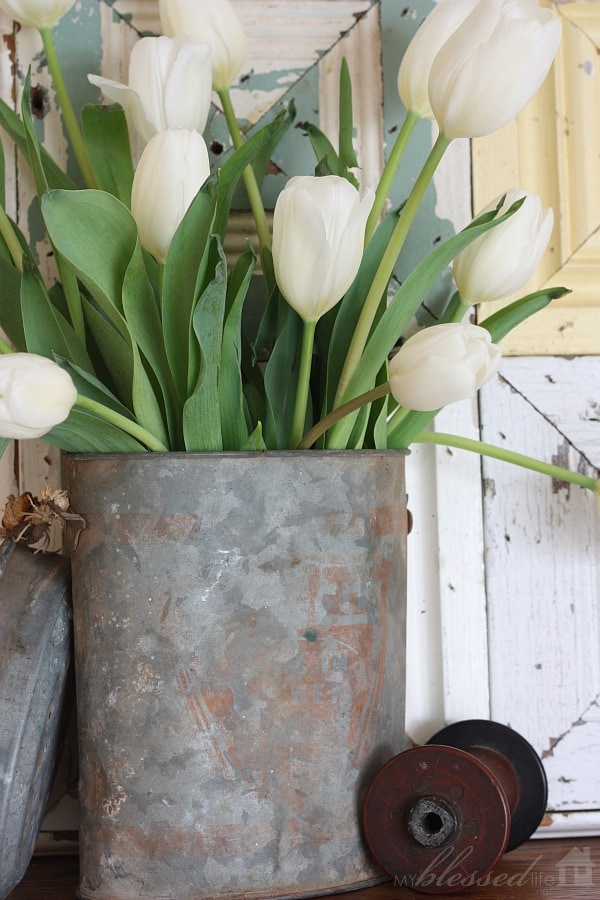 Very similar to the above but of course, with your favorite colored tulips or wildflowers the season has to offer. It adds natural rusts which for us creates an even greater characterful flower vase that oozes with both charm and history. It could be the bucket your grandparents had to put corn and feed the chickens, that you have decided to keep the memory going for generations to come. A truly magnificent way to reuse an old can, keeping the family history intact.
Colorful Potted Plants
Rust comes from rustic. So no surprise when you see metal buckets full of the stuff! Coincidentally, the only thing on the planet that will destroy metal is what it naturally makes. Rust. Again, these decorative objects don't simply fit in an old school barn with 80s furniture. No, they fit in most modems of homes too, no matter their design wishes. Bring color to your home too. As a whole, we are afraid of using colors and keep to pastels. But bright literal brightness up the mood, for everyone.
Milk Can Flower Arrangement
It is not all about the cans, but then again it could be! Wildflowers generally speaking will suit best an old-looking vessel to be in it. Like the other spectrum, winter and brown flowers will suit a brighter, more polished, and trendier type of vessel. And this is great news as it means your home will change every season or at least twice a year, always making a slight difference never getting bored of your inner surroundings. This design works with dried flowers, as you would have never guessed, but if you are in luck and living in rural areas, chances are you have fields and fields of beautiful spring flowers on your doorstep.
Simple White Flower Arrangement
Elderflowers, one of the most scented and epic flowers of all times. And on top of that, it will naturally look brilliant as dried flowers as they will never change or turn color! Once fresh they'll keep fresh and keep on dazzling you with their unmistakable scent. All you will need are small milk or fruit glass jugs, cleaned, and an elderflower tree somewhere near you, on one of your walks around the country. Never anything so easy looked this good. Keep it simple, it will do the work for you.
Farmhouse Style Spring Decorating Idea
Especially if you live in a city or a busy town, you wish to get back to nature and be surrounded by the stuff. By using this to our advantage since we ought to know better, take the most random of metallic or wooden containers and dress it up a bit. You can do wonders and can really make an astonishing difference to your interior design. It will be a constant reminder of how nature is beautiful and more so why we need and must protect it, and surround us with it. ​
Farmhouse Style Entry Hall Spring Decor
Adding simple touches here and there of eggs, nests, flowers, and flowering branches has never been so easy, and so effective. This puts you back, in terms of design, to the absolute rawness of what we could have decorated our homes in some easy primitive way. But by who means primitive, also means minimalist if you think about it. It is all about using what is in your garden or land, what has fallen but can be rescued and utilized in ways we never imagined. Vintage means old, but it doesn't mean it will make your home into an old person's home. No, it simply adds character to bland walls reflecting light all over the place, also hitting natural products created by animals and nature.
Rustic Box Centerpiece
Rustic flower box idea for spring.
Weathered cedar wood is used for this next tip, however, any other types of weathered wood will do just about perfect. The older it looks, the better the end result. So do not be afraid. Add glass jars as the containers for the flowers, whether fresh or dried and place this superb centerpiece in the home embracing the season. You could end up spending 50 dollars if not more than a manmade weathered look-alike box, so best do it yourself for free. How can anyone resist!