Ask any interior designer, and they will tell you that neutral hues are a safe, classic, and elegant palette to decorate a bedroom. Furthermore, they're also a good option if you're looking to make your sleeping space more stylish, as minimalist and monochromatic design trends are popular at the moment. However, just because these subdued interior styles are trendy, it doesn't mean you can't get creative with vibrant and exciting colours.
A well-decorated bedroom is one that represents your style, and adding a dash of your favourite colour is a great way to inject some personality into the space. Whether you're seeking to add a bit of fun or pump some life into your room, the following are some simple ways to add colour to your bedroom without spending a lot of money or making a big commitment.
A Patterned Duvet Cover Set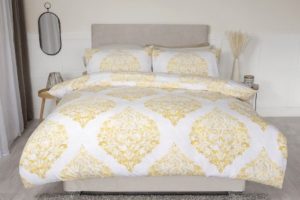 One of the easiest ways to give your room a whole new fresh look is with a patterned duvet cover set. And with the many designs of patterned duvet cover set options available today, you're sure to find one to suit your taste. 
Opting for a complete bedding set with perfectly matched elements is a great way to decorate your bed. Bedding sets have a flawlessly matched look, with some pattern and texture for interest. Despite the sets' overall complementing design, the bedding's elements are still different to avoid the undesirable "matchy-matchy" effect.
However, if you feel that a matched bedding set is still too "matchy" for you, don't hesitate to build your own. The key to creating an eclectic bedding set that doesn't appear too odd is to use one or two unifying colours for the pieces. For example, your bed skirt could be striped, and your duvet cover could be flowery, but both must have the same unifying colours to create a style that is quirky but put together.
When choosing patterns for your duvet cover set, take a minute to think about what look you want to achieve in your room. Florals, for example, add a feminine touch to a space, whilst animal patterns add a glamorous or eccentric touch. Second, consider which patterns will complement the overall theme of your bedroom.
As a general guideline, you should use at least three patterns in a room. A design combination that works nicely together is a stripe, a flower and a polka dot pattern. You can also group herringbone, paisley and strip patterns or try mixing two different sizes of plaids and a floral pattern. 
When it comes to mixing and matching the hues of different patterns, you can either use colours that have the same tone and intensity or choose tone-on-tone patterns to add depth, texture, and character to a neutral area. 
A Colourful Rug
You may find yourself continuously staring up at the walls or around the room at the furnishings when designing your space. In doing so, you may overlook the importance of appropriately dressing the floor. Enter multicoloured carpets, which may be used to complement any bedroom decor. 
Lay a brightly coloured rug on top of a neutral-toned floor for a striking effect. If you want to add just a bit of colour, pick an earth-toned rug that complements the colours of your bedding.
Bold Artwork 
If you're looking to keep your furnishings and accessories monotone, you can use abstract paintings and images to bring in splashes of colour. By keeping the surroundings neutral, you can put the focus on your creative pieces and create a gallery-like atmosphere.
Don't be afraid to try your hand at using big prints and mixed media pieces. Prints and original pieces of art will give the room some individuality. Large pictures also look great hanging over a bed.
Plants and Flowers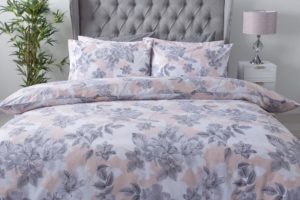 Plants and flowers are a wonderful way to bring colour to a space. You may decorate your bedroom with plants in a variety of ways. For instance, you may place a vase of fresh flowers on your bedside. Or, if there is room, you might arrange a tiny plant stand in the room's corner. You might also suspend plants from the ceiling for a more dramatic effect. Whatever strategy you choose, adding plants to your bedroom will help make it seem cozy and welcoming.
Accent Chair
Any dull bedroom can be brought to life with a bold and colourful chair. Pick out a straightforward chair made of metal or wood, and give it a fresh coat of paint. The most noticeable colours are often yellow and blue but don't be intimidated to experiment.
A chair cushion may be reupholstered more easily than you would think. A single pillow may be changed to drastically alter the look of your room. Start with a little side chair that needs improvement. Reupholster the cushion using colourful textile scrap and a staple gun after removing the cushion and old fabric. Alternatively, if you're not a lover of DIY, seek a chair that is upholstered in unique designs or vibrant hues that are distinctive and eye-catching.
Bright Accessories
When the majority of your bedroom is neutral in hue, you'll need accessories to liven it up. A stunning bedside light or an eye-catching vase may completely alter the mood of the space. Don't choose too many accessories with contrasting hues, though. The last thing you want is for your space to appear cluttered and disorganized if you do that. Anyone entering a room with too many colours may become disoriented. On the other hand, your bedroom might seem more balanced and unified if you select a colour scheme with hues that blend nicely and complement one another.
Bed Pillows and Throws in Bright Colors
Pillows can transform any plain bedding into a whole different look. Whether you select a few complementing pillows or hundreds in all shapes, sizes, and patterns, pillows are the ideal way to enhance your bedroom's colour scheme. 
In addition to cushions, investing in a colourful or patterned throw is a great way to inject some colour into your bedroom. Additionally, replacing just a few of these tiny accents will be less expensive in the future if your design preferences change than buying a completely new bed or painting the walls.