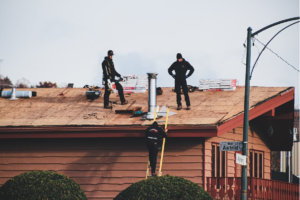 A roof is an important part of any building. Not only does it keep the elements out, but it also plays a role in the aesthetics of the structure. That's why it's important to make sure that your roof is in good condition at all times. Roof repairs are necessary when there is damage to the roofing material, when water infiltration occurs, or when there are signs of wear and tear. In this blog post, we will discuss six reasons why roof repairs are important.
1. Improved Energy Efficiency
One of the main benefits of regular roof repairs is that they can help increase the energy efficiency of a building. This is because damaged or worn-out roofs often allow heat to escape, which increases energy costs. By taking the time to repair any damages, you can keep your energy bills lower and make sure that your home or business is as energy-efficient as possible.
Also, roof repairs can improve the insulation of a structure, reducing the need for additional insulation. The experts at Paramount Roofing say that this can result in up to 15 percent energy savings. Your bills will be lower and you'll create a more comfortable indoor environment.
2. Improved Safety
Roofs can be dangerous if they are not regularly inspected and maintained. Repairs are necessary to make sure that the roof is safe and strong enough to withstand the elements without any cracks or weaknesses. In addition, regular maintenance of your roof can help prevent slips, falls, and other injuries that can occur due to a weak or damaged roof.
In addition, if there are any leaks in the roof, repairs can help to keep moisture from seeping into the interior of a structure. This can prevent potential health risks such as mold and mildew growth. 
3. Increased Curb Appeal
A well-maintained and attractive roof can help increase the curb appeal of your home or business. When buyers are looking for potential properties, they often look at the condition of the roof as an indicator of how well-maintained the property is. Taking the time to make necessary repairs can help increase your property value and attract potential buyers. 
If you're seeking a way to add more appeal and value to your property, consider revamping the roof! Not only will this create an overall better impression on those who view it; but also boost its worth. The roof is one of the most visible elements in any structure and can greatly influence how people perceive it at first glance. Installing a new roof may be the perfect option for achieving that extra curb appeal!
4. Increased Durability
Roofs are exposed to a variety of elements such as wind, rain, snow, and hail on a regular basis. Over time, this can cause wear and tear on the roofing material. Regular roof repairs can help to ensure that your roof is durable and able to withstand the elements for years to come. Over the course of a few years, the costs of regular repairs will be much lower than the cost of a full roof replacement. You need to keep in mind that a roof is an investment and regular maintenance will help you get the most out of your investment. 
5. Prevention of Further Damage
If left unchecked, small problems with a roof can quickly turn into much bigger issues that could lead to expensive repairs or even replacement. Regular inspections and repair work can help ensure that any potential problems are caught and addressed before they become worse. This can help you save money in the long run, as it's often more cost-effective to repair small issues than to wait for them to get worse. 
In case you have already noticed a problem with your roof, it is important to address it immediately. If you wait too long, the damage could spread and become much more costly to repair.
6. Improved Quality of Life
A well-maintained roof helps increase the comfort and safety of a home or business. It can also provide peace of mind, knowing that the structure is safe and secure. Regular inspections and repairs can help ensure that you don't have to worry about your roof in the future. 
Try to stay ahead of potential problems by performing regular roof maintenance and repair work. This can help extend the life of your roof, saving you money in the long run. One of the most important things to remember is that roof repairs are an investment in your home or business, so make sure to take the time and money to get them done. In this blog post, we will discuss six reasons why roof repairs are important.
Overall, regular roof repairs are essential to making sure that your home or business is safe and efficient. They can help improve energy efficiency, safety, and curb appeal, while also helping to prevent further damage down the line. Taking the time to make necessary repairs can save you money in the long run, so it's important to make sure that you stay on top of maintenance and repair work.