Sadly, few people are able to ever get the house of their dreams. The primary reason for this is, of course, budgetary constraints. Most people simply do not have enough money to buy the house that they have always wanted. However, just because you are unable to buy the house of your dreams, that's not to say that you can't still transform the house you currently have into something close to it.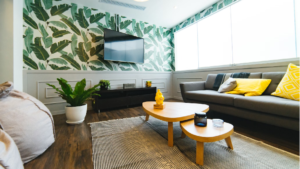 This post will explore this topic in more detail, offering some expert advice on how you can decorate your house and turn it into the property that you've always wanted.
Using Contractors
Whatever you are going to be doing to your house, it's important to hire professional contractors. It's very common for people to try and redecorate their houses themselves. It is a very bad idea to try and do this, especially if you are going to be undertaking major work, i.e., kitchen redesigns. When you hire a contractor not only are you protected by insurance if they make a mistake, but you also get to benefit from their years of experience redesigning and redecorating other people's homes. Shop around for contractors and find the most qualified one that you can.
Redesigning Kitchen
Most people's dream is to have a good kitchen. The reason for this is that people spend a lot of time in their kitchens, so it's nice to have one that's designed to a high standard and quality. According to the specialists at msisurfaces.com, granite countertops are a highly effective way of improving your kitchen's appearance. Most experts would agree that starting your home redesign with your kitchen is one of the best things that you can do. The reason for this is that kitchens are notoriously expensive to redecorate. Once you have redesigned your kitchen, then any of the money that's left over you can then commit to other areas of your house. You may want to consult an expert kitchen designer if you're struggling to decide what you should do to it. Kitchens can be very hard to redecorate.
Consistent Theme
Your house needs to have a consistent theme. A theme is something that's overlooked by a lot of people when they are decorating their homes, sadly. Most people's houses are a complete hodgepodge of different styles. In order to create a consistent theme, make sure that each of your home's rooms has a similar color tone and uses furniture and design styles from the same period. The only room you can get away with making ultra-modern if the rest of your home has an antique look is the kitchen.
Shopping Second-hand
Whenever you can, buy items second-hand. Shopping for things second-hand can be a very effective way of saving money. However, you do need to make sure that you are buying things from reliable sellers. In order to work out whether or not a seller's reliable, check out their reviews. If reviews are not available, then at least make sure you buy from people on platforms where you have buyer protection. That way, if the item you buy doesn't meet your expectations, you can send it back for a refund. As long as you have buyer protection, the seller's reviews don't matter.
Changing Flooring
Your home's flooring needs to be changed and replaced, too. You can't completely redesign your house without also changing your flooring. It is especially important to change your flooring if it is old and tired. Make sure to shop around and try to find the best flooring you can. Ensure the flooring you buy matches the other design changes you have made. One thing to bear in mind is that flooring can be extremely expensive. You can save money by shopping during the sale season or by using coupons. Never buy low-quality flooring, because it never lasts.
Design Magazines
Finally, design magazines are great places to turn if you are struggling to figure out what to do to your house. There are lots of design magazines and journals that you can view and use online. If you are going to use an online magazine, then make sure that it's one that features a broad range of different design styles. That way, you can view lots of different styles and find the one that's right for you. You can literally lift a design out of a magazine and copy it. Copying rooms and styles you see in design magazines can be a good idea if you have no ideas yourself.
Redesigning one's home can be difficult. With the advice given here though, it doesn't have to be anymore. Give each of the points consideration and thought, so you can get the most out of your home redesign.