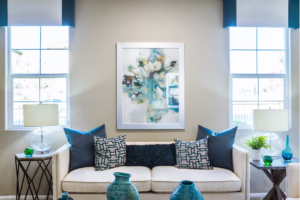 With each new season comes a fresh opportunity to revitalise and rejuvenate your living spaces. As nature shifts and blossoms, why not let your home evolve with it? Seasonal refreshment in interior decor isn't about complete overhauls but subtle changes that breathe new life into your surroundings. This guide will provide you with inspiration and practical tips to embrace the seasons and keep your home feeling vibrant and inviting all year round.
Embracing the Changing Colors of Nature
As the natural world changes its hues with the seasons, you can mirror this transformation inside your home. In spring, opt for fresh, light colours that evoke blooming flowers. In summer, experiment with bright and lively tones, capturing the energy and vibrance of sun-filled days.
As autumn approaches, integrate warm, earthy shades that reflect the changing leaves and create a comforting ambience. Winter calls for cosy, muted colours like soft greys, blues, or creams that create a snug atmosphere, complementing the chill outside.
Don't be afraid to experiment with different colour combinations, either through paint or accessories like cushions and throws. Consider using colour palettes inspired by nature, such as the soft pastels of spring blossoms, the bold blues and greens of a summer ocean, the rich reds and browns of autumn forests, or the serene whites and greys of a wintry landscape.
These subtle shifts in colour can redefine your space in harmony with the outdoors, allowing your interiors to resonate with the rhythms of nature and fostering a sense of connection and renewal. By consciously aligning your interior design with the seasonal shifts, you create a living space that evolves and celebrates the cyclical beauty of our world.
Refreshing Textiles and Soft Furnishings
Swapping out textiles is a quick and cost-effective way to change the ambience of a room. Light, airy fabrics like linen and cotton can make a space feel fresh for spring and summer, giving a breezy and relaxed vibe. In contrast, velvets, wool, and heavy drapes will provide warmth and luxury in the cooler months, offering a tactile richness that invites you to snuggle up.
Incorporate seasonal patterns, such as florals for spring, tropical prints for summer, earthy textures for autumn, or plaid for winter, to reinforce the thematic connection. Don't forget to consider texture, as well. Layering soft cushions, throws, and rugs adds depth and comfort, allowing you to easily transform your living space to align with the season.
Consider adding some seasonal accent pillows, or perhaps a themed table runner, to further enhance the seasonal feel. These simple adjustments let you creatively explore different aesthetics throughout the year, keeping your home feeling fresh and invigorated and allowing you to express your style in tune with nature's rhythm.
Incorporating Seasonal Flora and Fauna
Bring the outside in by adding seasonal plants and flowers to your decor. Fresh flowers, potted herbs, or even artificial botanicals can create a lively focal point. Consider decorative vases, pots, and planters that align with the season's theme to enhance the overall look – designer tablecloths, throws, bedding, and towels are the best for this. These living elements will not only brighten your home but also improve air quality and well-being.
Reorganising and Decluttering
A new season is an excellent time to declutter and reorganise. Adopt a minimalist approach by rotating decorative items or storing out-of-season belongings. By keeping surfaces clean and displaying only what's relevant for the current season, you'll create a fresh, uncluttered atmosphere that makes room for new inspiration.
This isn't just about removing excess; it's about strategically placing and storing items in a way that complements the season. Even small changes like rearranging furniture or reorganising bookshelves can breathe new life into your space, making it feel renewed and ready for the season ahead. It's a thoughtful process that encourages mindful living, ensuring your home resonates with the changing rhythms of the year.
Adding Seasonal Scents and Ambiance
Scent plays a powerful role in setting the mood. Use candles, essential oils, or room sprays with fragrances that match the season. Think fresh citrus for spring, tropical fruits for summer, spicy notes for autumn, and woodsy, warm aromas for winter. Don't forget the auditory experience; gentle background music aligned with the season can elevate the entire sensory experience.
Seasonal refreshment is about more than aesthetics; it's an opportunity to reconnect with nature, your space, and yourself. It's about finding joy in transformation and taking the time to make your home a true reflection of the ever-changing beauty around us. By incorporating these ideas into your decor, you can create a home that continually feels fresh, inspiring, and aligned with the rhythms of life. Whether it's a complete makeover or just a few thoughtful touches, embracing the seasons in your decor can help you rediscover your home anew.