Whether you love hosting gatherings, throwing parties, or simply relishing moments of relaxation in nature, you can easily turn your outdoor space into an oasis of fun and entertainment.
Modern outdoor spaces are blank canvases that you can transform into vibrant oases of relaxation. So, let your imagination wander as I delve into the magical finishing touches that will breathe life into your backyard or patio.
Add a Focal Point
Having a charming centrepiece on your patio will bring everyone together, set the mood, and spark those unforgettable moments. If you need a showstopping focal point that will turn any regular evening into a cosy, laughter-filled gathering, pick one of these stylish outdoor fire pits for sale.
They're like works of art that you can gather 'round. They range from sleek contemporary ones to rustic designs, and even super cool pits that double as tables. These centrepieces are made from sturdy materials that can take on the elements like champs. Whether it's rain, shine, or a chilly night, they're up for the challenge.
Modern fire pits come in a range of options that fit perfectly in any outdoor space. Got a cosy balcony? There's a suitable design for that. Have a sprawling backyard? They have you covered too. Imagine gathering with your friends, the stars above, and the warmth of the fire pit right in the middle. It's your own outdoor haven where you share stories, roast marshmallows, and laugh like there's no tomorrow. So, if you're ready to take your outdoor space from "meh" to "oh wow," check out these stunning centrepieces.
How Do I Find the Right Outdoor Fire Pit?
So, when browsing for outdoor fire pits for sale to spice up your outdoor space, here are several things that you should keep in mind:
Size matters: Make sure it fits your space – you don't want something that hogs the whole backyard or gets lost on your balcony;
Materials that last: Look for quality materials like steel or cast iron that can handle Mother Nature's mood swings;
Style and design: Pick a fire pit design that speaks to you – modern, rustic, classic – whatever floats your fire-loving boat;
Safety first: Check for safety features like screens or lids to keep those flames in check;
Ease of use: Some fire pits are easy to set up, while others might need a bit more effort. Choose what suits your DIY level;
Extra features: Some models do double duty as tables or come with cooking grates, so think about how you'll use it;
Budget: You can find great fire pits at different price points.
Bring the Entertainment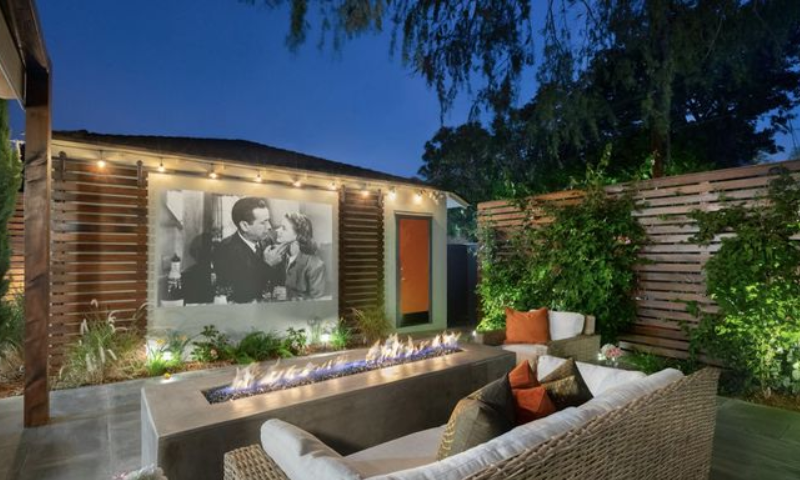 The stars above, a comfy seating area, and there it is, the pièce de résistance – a projector screen. Whether it's a family movie night, a cosy date night, or a get-together with friends, having a projector screen outdoors helps you take the cinematic experience to a whole new level. Just imagine lounging on your favourite chairs or bean bags, popcorn in hand, as the screen comes to life with your favourite blockbusters under the open sky.
You can also use the screen for watching sports games, streaming TV shows, or even hosting a gaming session with your buddies. You have your own open-air theatre, complete with all the snacks and the best company. There are portable screens suitable for outdoor use, making the whole experience hassle-free. Just pick a spot, set up the equipment, and you're good to go.
Also Read: Landscaping Ideas: Creative Designs to Enhance Your Outdoor Space.
Provide Shade
Shade helps you create an atmosphere that begs you to linger. It gives your outdoor area a comfy living room vibe but with a bonus dose of fresh air. You can have a lazy afternoon brunch, host a barbecue, or just laze around with a book, all without the blazing sun playing spoilsport. And the best part – adding shade is versatile. You can go for a classic umbrella for a quick fix or opt for a more permanent solution like a gazebo. Plus, you can get all creative with string lights, curtains, and outdoor-friendly décor to make the spot even more inviting.
Awnings are fantastic shade options that shield you from the sun's rays and add a touch of elegance to your outdoors. You can opt for a retractable awning that lets you control when to bask in the sun and when to take cover. Fancy, right? And if you're feeling extra fancy, you can choose from an array of colours and fabrics that match the vibe of your space.
Add Ambient Lighting
Wall lights provide decent illumination and help you create a soothing atmosphere. It's that cosy, inviting feeling that makes everyone want to stay and soak in the moment. Whether you're having a quiet evening with a loved one or hosting a full-blown garden party, these fixtures set the scene like no other. Choose from lights that twinkle like stars, elegant sconces that add a touch of sophistication, or playful lanterns that give your space a touch of whimsy.
From cosy dinners under the stars to late-night chats with friends, fairy lights are also amazing for setting the mood. String them along your pergola, drape them over your plants, or weave them around your furniture. Whatever the occasion, fairy lights are the ultimate storytellers. They transform your space into an oasis where memories are made, laughter echoes, and every moment feels like a scene from a fairytale.
Also Read: Outdoor Upgrades that will Add Value to your Home.
Personalise and Decorate
There are plenty of ways to add some personality to your outdoor area and make it shine:
Start with the furniture: Whether it's cosy sofas, chic lounge chairs, or even funky hammocks – choose pieces that reflect your style. If you're a pop of colour kind of person, go for those bright cushions. If minimalist elegance is your jam, opt for sleek lines and neutral tones;
Add some life – literally: Plants and greenery bring a breath of fresh air to your space. Potted plants, hanging planters, or even a vertical garden – they bring nature's beauty right to your doorstep. You don't have to be a gardening guru to keep your plants alive and thriving. Self-watering planters are a great investment if you have a busy schedule since they take care of the watering for you;
Personal touches: Hang up some artwork, set up a DIY photo wall, or display some of your travel souvenirs. This gives your space a slice of your life story. Don't forget that the beauty is in the imperfections – the mismatched chairs, the quirky décor, the way everything comes together in a symphony of your unique style!