Plumbing is one of those things that we often take for granted–until we lose that convenience and experience annoying and disgusting plumbing issues. And when plumbing issues occur, knowing who to call can significantly reduce the stress of the situation. 
But how do you find the right plumber? Do your research and ask the right questions. This article shares some critical questions to ask a plumber you're considering hiring.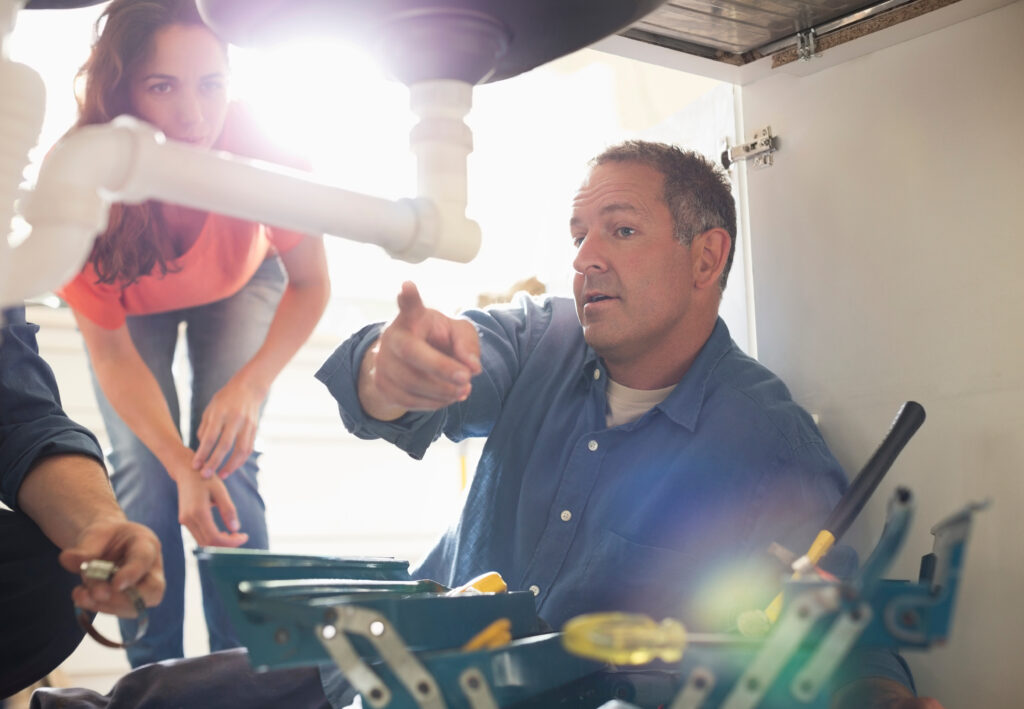 1. Are You Licensed?
The first question you should ask a potential plumber for your home is if they have a plumbing license. Choosing licensed, quality plumbers ensure that they have the necessary training, skills, and understanding to handle any plumbing job. 
The government requires individual plumbing professionals to have a license to prove that they are authorized and skilled enough to conduct plumbing jobs. In general, to call himself a professional plumber, a plumber must complete training programs and pass certification exams. Furthermore, most states and local governments need plumbers to participate in continuing education and re-certifications regularly to refresh their plumbing expertise while being up to speed with the newest building codes and industry best practices.
2. Do You Have Insurance?
Mistakes and accidents happen every day. However, mistakes with your plumbing can be disastrous and expensive. And you undoubtedly want to safeguard your home from that risk. As a result, ensure that the plumber you hire is adequately insured.
This implies you will not be held liable if the plumber causes damage to your property or gets injured while performing his duties.
Ask for proof or copies of a plumber's bonding, builder's risk, and worker's  compensation insurance. A trustworthy plumber will respond swiftly to your request and provide the necessary proof. Once you've received a copy, check to see if the coverage is current and up to date. 
3. Do You Offer Service Warranties?
Before hiring a plumber, you want to ensure that they provide a warranty for their work. 
What if you notice an issue with your plumbing system after they leave? You want a plumber who will return to complete or re-do their job. 
Fortunately, most skilled plumbers are willing to make repairs or replacements for any complications related to their work or any initial issues that may arise after the plumbing service for a specific timeframe. The best plumbers have confidence in the quality of their work and will stand by their service. 
4. What's Your Rate?
As with anything that costs money, you should consider whether a certain plumber is within your financial means. So, always ask a licensed plumber about their service rates. You don't want to hire someone only to realize that they're too expensive for your needs. 
Most plumbers cannot present you with a service quotation without first visiting your home and assessing the problem. Only then will they be able to provide a quote. Make sure to inquire about everything, including any hidden charges. If possible, you should ask for a detailed breakdown of their quotation. 
5. Do You Provide Emergency Services?
Plumbing problems usually come when you least expect them—before work, during a birthday party, or at midnight. While some plumbing problems are minor and can be ignored for a few hours, others, such as burst pipes or sewer backups that can cause severe water damage, require immediate attention.
Thus, you want to choose a plumber that provides 24/7 emergency services. Ideally, a reliable plumber should offer emergency services at no additional cost and be available to visit your home any time. 
6. Can You Provide References?
Don't take a contractor's word when they claim they have the right skills and experience. Always ask for proof. At the same time, you can always look into their credentials, such as licenses and certifications, to learn more about their workmanship. However, it's best to hear it from the people who have already paid for their services in the past. 
Are their previous clients satisfied with their services? Ask the plumber to provide 3-5 references for those who can vouch for their work. When the plumber gives you a set of references, make sure to verify that they exist by giving them a call. Speaking with their previous clients can give you more insights into the plumber's capabilities. 
Ask the client references about their experience working with the plumber. Did they correctly complete the job? Were there any issues, and did the plumber address those issues immediately
7. Who Will Be Doing The Work?
It's not always the person who you talk to that ends up doing the job. A lot of tradesmen are working under a company. For larger jobs, some are even known to have subcontractors to take care of the most laborious work. 
So, make sure that you know exactly who'll be entering your home and doing the job. Feel free to ask about their training and experience to ensure that they're the right fit for your needs. 
8. Will You Arrange For Any Needed Permit?
In general, minor plumbing projects don't typically need a permit from your local government. However, any plumbing job that can potentially cause harm to either the city sewer system or neighbors will require inspection and permits to ensure that the work adheres to the building code in your location. 
In the event that the job requires a permit, you may want to ask if the plumber is open to processing and getting the necessary permits for you. 
9. Will You Clean Up After The Job? 
Most plumbers clean up after themselves and take all the trash with them when they finish their work. However, this isn't always the case because some plumbers don't cover post-installation cleanup. This can be a huge mess, and you don't want to be stuck cleaning up.
Thus, you want to clarify with the plumber if cleanup is a part of their services or if you need to pay extra for a cleanup service. While you can always clean up the mess on your own, it's best to look for a plumber who offers this service, with or without a fee. Remember that the sooner your home is tidy after the project, the better it is for you and your family.
Takeaway
And there you have it! By asking a plumber these six questions, you can ensure they have the right qualifications for the job. You'll gain peace of mind about their skills and ensure they can resolve your plumbing issues immediately.