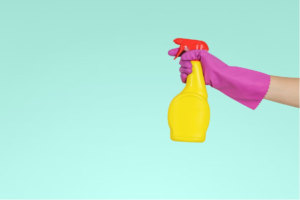 Are you feeling overwhelmed by the mess and clutter in your home? If so, don't worry—you're not alone. Keeping your house clean can seem like a daunting task, but with some helpful tips and a little bit of effort, you can take control of the chaos. Here are 8 practical tips to help make maintaining a clean home much easier. 
1. High-pressure window washing services
High-pressure window washing services are an efficient and effective way to give your windows a streak-free shine. Using powerful jets of water, the cleaning professionals can quickly remove dirt, dust, and other grime from the glass. Plus, these services often include additional extras like wiping frames and sills for an even deeper clean. The window cleaning experts will also take the time to inspect your windows for damage and make any necessary repairs. This is a great way to keep your windows looking their best, especially if you live in an area prone to dirt and dust. It's also a great solution for those hard-to-reach areas, such as those high windows at the top of your house.
2. Set aside time for weekly deep cleans 
A weekly deep clean is one of the most important steps you can take when it comes to keeping your house clean and organized. Schedule specific times into your calendar every week when you dedicate yourself to doing a thorough job of tidying up—this could be vacuuming carpets, mopping floors, or tackling those areas that often get overlooked in day-to-day cleaning, such as behind the couch or fridge. 
3. Create a daily routine
Creating a daily routine is key to keeping your house clean and clutter-free. Decide which tasks you want to do each day—this could be vacuuming, dusting furniture, or doing the dishes—and make sure they get done regularly. Having a plan in place will help ensure that these tasks don't slip through the cracks and become overwhelming later on. To make things easier, consider breaking down larger tasks into smaller ones and tackling them bit by bit over time. 
4. Declutter regularly 
One of the most effective ways to maintain a clean home is by decluttering regularly. Start by going through all the rooms in your house one by one and getting rid of anything you don't use or need. Then, find new homes for all the items that are still useful, such as donating them to charity or selling them online. This will help keep your home free from clutter and make it much easier to clean. 
5. Make use of storage solutions 
A great way to maintain a tidy home is by making use of storage solutions throughout your house. Investing in attractive baskets, bins or shelves can work wonders when it comes to keeping things organized and easily accessible. You could also consider installing built-in cabinetry or under-bed drawers if you have enough space in your home- these are great for storing items like clothes, shoes, linens, and more. 
6. Get the whole family involved 
Enlisting the help of your entire family is a great way to keep your house clean and organized. Get everyone to pitch in by assigning each person specific tasks they can do regularly. This could be anything from making beds in the morning to taking out the trash at night. It's also important that you set an example for everyone to follow—if you stay on top of your chores, it will encourage others in your household to do the same. 
7. Keep surfaces clear 
An easy way to give any room an instant lift is by keeping surfaces clutter-free. Aim to do a quick tidy-up every day by clearing off countertops, desks, and other surfaces throughout the house. This will help maintain the cleanliness of your home and prevent it from becoming overrun with unnecessary items. 
8. Invest in cleaning supplies 
Having the right tools and products on hand is essential for keeping your house clean—and sometimes a little splurge is necessary. Investing in quality broom heads, mops, sponges and carpet cleaners will make all the difference when it comes to tackling tough messes around the house. Just be sure to store these items away when you're done using them so they don't create unnecessary clutter themselves! 
Why is it important to keep our house clean? 
It's important to keep your house clean for a variety of reasons. Not only does it make your home look more attractive, but it also helps reduce allergens and other potentially harmful particles in the air. A clean home can also help improve productivity, as it eliminates distractions that come from clutter and mess. Finally, maintaining a tidy space is essential for promoting good mental health—it can help you feel calmer and more organized in everyday life.
Is it possible to keep your house clean all the time? 
Unfortunately, it's not always possible to keep your house perfectly clean all the time. However, by following the tips above and creating a regular cleaning routine, you can ensure that your home is maintained in a tidy and organized state. Remember to break down larger tasks into smaller ones if necessary and don't forget to involve the whole family to make things easier!  With dedication and consistency, you should be able to keep your house looking its best.
Why is it important to declutter regularly? 
Decluttering your home regularly is essential for maintaining a clean and organized space. Not only does it get rid of any unnecessary items that are taking up space, but it also helps you identify what items you need in order to keep your house looking its best. Additionally, by giving away or selling unwanted items, you can make some extra money or help out those in need. Decluttering not only helps improve the appearance of your home, but it can also provide other benefits as well!
As we saw, keeping your house clean can be a challenge. But with the right approach and attitude, it's certainly achievable. By following these tips and creating a regular cleaning routine, you should find that maintaining a tidy home becomes much easier over time. Keep at it and soon you'll have the clean, inviting home of your dreams! Good luck!