The bedroom, kitchen, and bathroom are probably the three most important rooms in your home. Their decor and organization say a lot about your personality. Also, it is very important that, in addition to everything else, your bathroom "follows" modern trends. We are here to help you with that and tell you which seven essential things you should have in your bathroom and why. Keep reading!
Dryers
Well-designed and, above all, functional dryers are one of the elements that should be found in your bathroom. Apart from the fact that in this way you can heat the bathroom and avoid different heaters and radiators, they significantly save electricity and energy compared to the other mentioned choices.
A dryer is a great solution for a small bathroom. It quickly heats the room, hangs on the wall, and takes up minimal space in the bathroom. You can easily and quickly dry towels on it, and when it is not heated, it can be a place where you hang towels, bathrobes, and similar things.
Shelves Full of Essentials
Bathroom cabinets and shelves are essential pieces of equipment for storing various things, such as hygiene and cleaning products, small appliances, towels, and the like. Also, put all the secondary hygiene items on the shelves. Keep scissors, nail clippers, hair brushes, and other essential items on the shelf. When buying scissors, nail clippers, and the like, make sure that everything you buy is from a brand that produces premium quality products because it is a worthwhile investment. If your bathroom is larger, install as many shelves as possible, because they will certainly not be wasted.
Little Things
Of course, a bathroom isn't a bathroom if it doesn't have all the little things that are necessary to make you feel comfortable and make it easier to clean. Indispensable accessories include towel holders, open or closed shelves, drawers, soap and toothbrush containers, storage niches next to the shower or bathtub, and more. 
Bathroom lighting is an indispensable element. This includes ceiling lighting of various shapes and sizes, lights above mirrors and sinks, but also lights around the edge of the bathtub, floor lights, and LED strips in the joints along the wall or ceiling.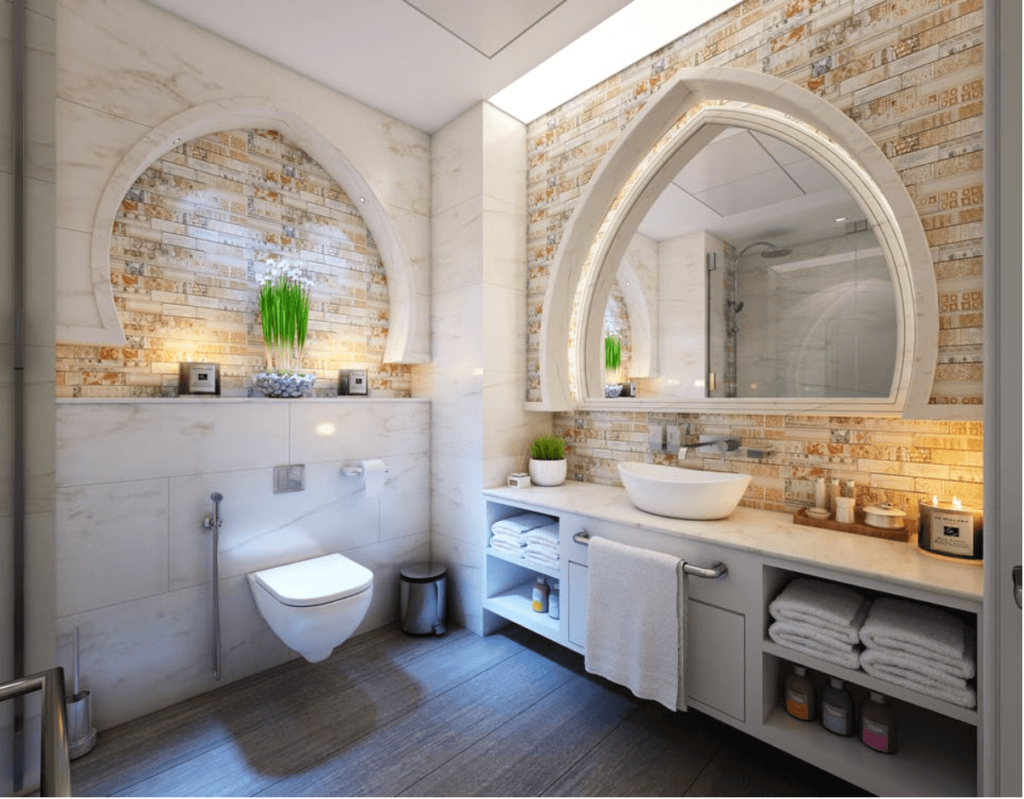 A Shelf With Boxes
The space above the washing machine can be fantastically used so that everything is at your fingertips yet decorative and practical. You can opt for a free-standing shelf that will surround your washing machine and use the wall above it, which is usually empty, or make a deeper shelf from one board on which you will arrange the laundry boxes.
The trick is that each box is the same color as the laundry that is put in it. In this way, you will "discipline" your family members to make it easier for you to sort your laundry, save the space you would have reserved for bulky laundry baskets, and decorate the storage in the color you want.
Toilet Paper
Create a nice and tidy space where even paper rolls will look cute. Use the space above the toilet bowl to hang a decorative soft basket in which you will store the unpacked rolls of toilet paper. In this way, you will protect them from dust, hide them, and the basket will look very rustic and lovely. The good thing is that they are very fashionable now, so you can find them in almost all home improvement stores at very reasonable prices.
Body Wash Products
A bath sponge is one of the most essential things you must have in the bathroom. There are different versions of sponges on the market—some have a softer texture than others. It is important to use it because dead skin cells are removed more easily and better with it.
A good facial cleansing gel will help you to keep your skin healthy and glowing. With its help, you can also remove make-up, i.e., use it instead of soap. Choose it depending on the type of skin you have.
Unlike facial cleansing gels, the selection of shower gels is much larger. Most shower gels are suitable for both the body and hair and are therefore an indispensable item in every bathroom.
Space Freshener
If you are always fresh and perfumed, why should not your bathroom be so as well? Use a space freshener for your bathroom to always be fragrant. There are various choices, and you can find and use the ones that suit you best.
Regardless of whether your home has minimal bathroom space or you simply want to enjoy a better start to your day during your morning routine, adding these few things to your bathroom will add value to the overall charm of the room.