There's no denying that our surroundings have an influence on how we feel. According to studies, certain rooms can elicit very tangible emotions; our mood and productivity can be greatly affected by what's around us. That's why, if you have the necessary means, interior design shouldn't be neglected.
It's equally (if not more) important in the case of children who especially need warm, cozy interiors that will evoke a sense of security, allowing for carefree playtime, focused learning, and peaceful sleep.
The process of decorating your kid's bedroom should be a cooperation between you and them. After all, it will be their private space, so it needs to suit their likes and preferences. On the other hand, children can have trouble determining what's functional so that's what you need to excel in. 
To help you get started, you might want to look into the tips and tricks listed below. From picking and theme and the right color scheme and considering your child's interests to maximizing storage space and separating work and play zones – continue reading to discover what may help you nail your kid's bedroom decor.
Pick a Theme and Color Scheme
Choosing a theme and color scheme is the first step to take as it will influence the rest of the decorating process. Kids love to be creative, so let them have the last word in the choice. If your child has been talking about wanting a room that looks like a "pirate ship", then, perhaps you could try to transform it into one. Don't worry if you have no idea where to start; there are plenty of online resources that will show you different bedroom themes and offer advice on how to decorate. If you don't want to spend too much on decorations, you can browse the internet and check if there are any discounts or coupons available – see more here.
A theme will influence the color scheme you choose. Try to stick to a "color wheel" concept as it will help you coordinate the colors and create a visually pleasing, cohesive look. A neutral background goes great with colorful accents while a bold, striking color scheme complements very well a more neutral palette.
Consider Your Child's Interests
Incorporate your child's hobbies and interests into the décor. If you're not sure where to begin, let your child be your guide. Perhaps they have a favorite character or a specific movie or TV show they're into right now. Go with it! Their room can be a collage of their passions. 
For example, if your child is obsessed with dinosaurs, then create a "dinosaur cave" in their bedroom. If they love reading, make sure there's a bookcase or a corner for a small library. If they love drawing, paint the walls with chalkboard paint to accommodate a drawing board. The possibilities are endless, so let your imagination run wild to come up with something truly "theirs." This will make their room their very own special space, which will support their development and boost their mood.
Maximize Storage Space
Every bedroom needs storage space and children's rooms are no exception. Of course, you should start with the basics – getting a large dresser with enough drawers, a bookcase, and a sturdy toy box or a chest of drawers. You can also maximize available space and incorporate hidden storage units, such as a set of slide-out drawers under the bed or an overhead shelf above the closet. Whatever storage system you use, make sure it blends in with the overall design and contributes to a clutter-free environment.
Separate Work and Play Zones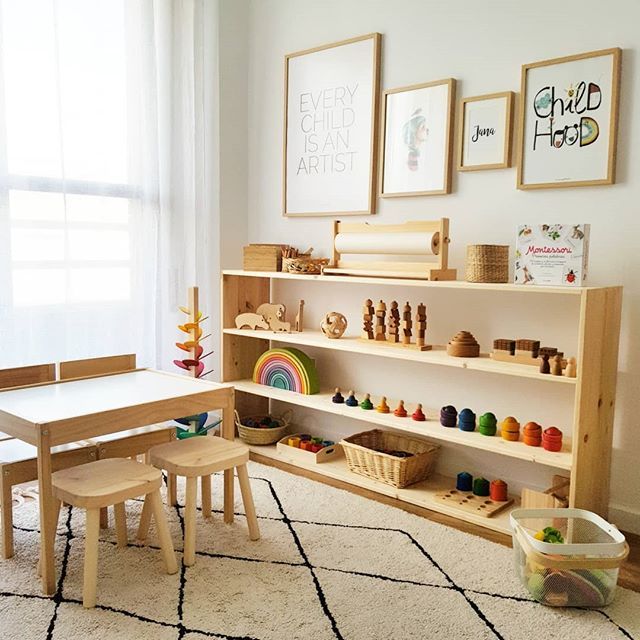 Like adults, kids need clear boundaries between work and play. This will help them develop a healthy sense of work-life balance from the very start. That's why it's best to separate the play zone from the learning area. You can do so by creating a "school corner" in one part of the room while reserving another part for playtime. For example, you can have a desk, a comfortable chair promoting good posture, and a bookshelf in the school corner while leaving the rest of the room free for play. This way your child will have everything they need at their fingertips.
Also, consider the available light source in each zone. Your child should be able to get enough light for reading and writing, but don't forget about the fun part, too. For example, you can get a floor lamp with a dimmer switch that will allow you to adjust the lighting according to what's needed at the moment.
Incorporate Patterns, Textures, Graphics
Texture, patterns, and graphics are great tools that can be used to elevate a room's style. A ceiling decoration or wall mural is a good option if you don't want to paint the room or aim for something more exciting than simple paint. This can be a great way of personalizing the space without making it feel cluttered.
To make your kid's bedroom a space they can call their own, it's important to incorporate things they love. Patterns, textures, graphics, and colors are all ways to differentiate the room from the rest of the house and create a sense of belonging.
Don't be afraid to mix and match them to come up with something unique. For example, you can use a bold wallpaper in a prominent part of the room, such as the wall behind the bed or the wall behind the desk, while using a softer texture, such as white canvas or muslin curtains, in all other areas.
Leave Room for Changes
As children grow, their interests and needs change. It's best to leave room for changes in the design, so your child won't outgrow his space in a year or two. Of course, you can always change the décor as well, but it's best not to start from scratch right away. After all, re-decorating a room is a lot of work and costs time and money. 
So, for example, look for paints that are easy to wash off or removable wallpaper. Additionally, aim for personalizing the space with decorations, using universal furniture that will work well with different styles.
Final Note
You can't go wrong with the tips and tricks above, but don't feel tied down to them either. There are many more ways you can improve the look and functionality of your child's room. Browse the web and get inspired by other projects to create something truly amazing that your child will love.
You don't have to be an interior designer to give your child a room that is both pleasant to live in and conducive to learning. As long as you understand the basics of interior design, you can create a warm, cozy space that will support and inspire your child's development.