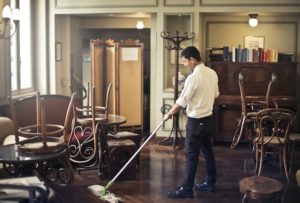 Having a clean and tidy home is essential for maintaining a healthy lifestyle. Yet, it's no secret that cleaning a home or office can be a lot of work.
With our busy lives, many of us simply don't have the time or energy to keep up with regular tidying and deep cleaning. This is where professional cleaning services come in.
Professional cleaners are trained and skilled in the latest techniques, equipment, and products that ensure your home is spotless, safe, and free from germs. From deep-cleaning carpets and floors to sanitizing bathrooms and kitchens, they can keep your home always looking its best.
This article explores why hiring a professional cleaning service benefits your home. Besides discussing the advantages of professional cleaning services, such as their expertise, time-saving benefits, and cost-effectiveness, it covers different types of services available. It also provides tips on choosing the best service for one's needs.
Let's jump right into it!
Time and Money Saved
If you don't have the time or energy to keep up with regular cleaning, professional cleaners can take care of all the hard work for you. It means you receive more stress-free time for doing the things you love without worrying about tackling household chores.
In addition, when you consider the cost of products, equipment, and your own time, it can be more affordable to hire a professional cleaner than to do it yourself.
Expertise and Convenience
When you hire a professional cleaning service, you are tapping into their years of experience and expertise.
Professional cleaners know exactly what products and techniques to use to get your home sparkling clean. They also have the latest equipment and tools to make light work of even the toughest cleaning jobs and use safe and effective products that won't damage your home or harm your family.
On top of that, professional cleaning services are very convenient as they can work around your schedule. Many services offer flexible options, so you can choose a time that suits you. This way, you can relax knowing your home is in good hands.
You can be confident that the job will be done correctly and to a high standard. This peace of mind is invaluable, especially if you have a busy lifestyle.
Healthy Home
Did you know that the air quality in your home can be more seriously polluted than the air quality outside? This is because dust, dirt, and other allergens can build up in your home and circulate in the air. It can cause severe respiratory problems, such as asthma, and negatively affect sleep.
By hiring a professional cleaning service, you can be sure your home is always clean and free from harmful toxins. Doing so will create a healthier environment for you and your family.
Enhanced Curb Appeal
If you're looking to sell your home, curb appeal is essential. Buyers will make up their minds about your property within seconds of arriving, so making a good first impression is crucial.
A clean and tidy home will give potential buyers or tenants the impression that you take pride in your property and that it's well-cared for. A professional cleaning service will help you enhance your curb appeal by ensuring your home is clean and clutter-free. It can help you to achieve a higher sale price or rental value.
Types of Cleaning Services Available
When it comes to professional cleaning services, there is a wide range of options available. Different services specialize in various types of cleaning, so you can choose the one that best suits your cleaning needs.
Standard services include:
Carpet cleaning. This service involves using powerful steam cleaners to remove dirt and stains from carpets.
Upholstery cleaning. This service provides deep cleaning for sofas, chairs, and other furniture upholstery.
Window cleaning. This service can make your windows sparkle and remove stubborn marks.
Kitchen and bathroom cleaning. This service will leave your kitchen and bathroom sparkling clean and germ-free.
Tile and grout cleaning. This service removes dirt, mold, and mildew from tiles and grouting.
Pressure washing. This service uses high-pressure jets of water to remove dirt and grime from patios, driveways, and other external surfaces.
How to Choose the Right Cleaning Service
When looking for a professional cleaning service, it's vital to choose one that is reputable and reliable. Here are some tips to help you find the best service for your needs:
Check reviews. Before making a decision, read reviews from past customers. It will give you an insight into the quality of the service.
Ask questions. Make sure you ask questions about the products and methods used to ensure your home gets the best possible clean.
Get references. Ask the company for references from past clients. Doing so will give you peace of mind that they are reliable and trustworthy.
Compare prices. Don't be tempted to go with the cheapest option. Instead, compare prices and ensure you get the biggest bang for your buck.
Final Thoughts
Hiring professional cleaning services can provide many benefits for your home. From time-saving to cost-effectiveness, there are numerous advantages to choosing this option. Plus, with a wide range of services available, you can find the one that best suits your needs.
Remember to vet the market to find an exemplary service. Otherwise, you can be disappointed with the level of service you receive. Take your time to select the best option and enjoy its benefits. Good luck!