If you live in a city apartment, chances are you have a balcony that serves as your personal outdoor space. However, since it is such a small area, it's hard to turn it into a space you would go to relax, but that shouldn't stop you. Sometimes, a few customizations can completely transform your terrace, turning it into your favorite spot to unwind and what you would be proud of calling home.
Here are 6 affordable ways to transform your balcony into a cozy spot:
1. Add Some Outdoor Furniture
The first thing you can do is bring a foldable table and chairs to your balcony. These furniture pieces are ideal as you can fold them up when not in use and can be easily stored. Having a place to sit and relax, when you are alone or have company, can be a huge advantage. Whether you want to sit and enjoy a good cup of coffee outside on a chilly evening or have drinks with friends outside on a summer night, having the right outdoor furniture is a huge advantage. It is, however, important to select the right outdoor furniture that isn't easily knocked over by wind or ruined by rain.
2. Bring in Some Plants
Plants serve as the best décor when it comes to creating a calm outdoor space. Not only are they a cheap way to accessorize, adding lots of greenery will imitate a backyard that you otherwise missed in an apartment. You can add planters of low maintenance plants like a Money plant or a Snake plant, that require low sunlight and water to stay alive. Similarly, planting herbs on your balcony will not only bring color but also keep your gallery smelling fresh! You can either use plant holders, pots or even hanging pots to give your space the cozy look and feel you desire.
3. Style With an Outdoor Rug and Wall Art
An easy way to make any space look snug is to add a rug and some art to elevate the space. Choose a patterned or textured rug along with a rocking chair for outdoor use and that goes well with your décor theme. Similarly, adding water-resistant wall art or décor pieces that complement your apartment can further add depth to your gallery, as an extension of your living space. Whether it is floor cushions, an ottoman, or a throw blanket, matching these to the theme will look more unified and give a cozy vibe to your space.
4. Light It Up
Lighting can easily be the cheapest way to completely change the look of a boring balcony. While searching for outdoor lighting, you can easily find hanging pendants or outdoor lamps that best fit your space. You can easily elevate the look of your terrace by adding some warm light lanterns or even battery-operated string lights, in case you are renting your apartment. To revamp the space, you can create unique wall art with string lights, giving it a truly homey feel.
5. Artificial Grass for Backyard Feel
Having an apartment might limit you from having a backyard, however, it shouldn't limit you from finding ways to turn your gallery into something resembling a backyard. The easiest way to do that is by using artificial grass, which will bring color and a fresh feel to your balcony. From the aesthetics to the inherent properties, there are different types of artificial grass that you can find so choose the one that suits your style. Since there are multiple colors you can select from, get one that looks good on your balcony. Artificial grass and plants are renter-friendly and ideal for busy individuals, and the best part about it is you can enjoy it without having to worry about its maintenance at all.
6. Set Up a Cozy Library or a Spot for Cocktails
Another way to personalize your terrace is to add objects that you personally use. If you enjoy reading, create a mini library outside and a comfortable seat with a view to enjoy your favorite reads. Similarly, if you love having friends over for drinks, make a small personalized bar that you can use to entertain whenever you invite guests over. These small changes will definitely make your outdoor space a reflection of your personality, making you want to spend more time outside.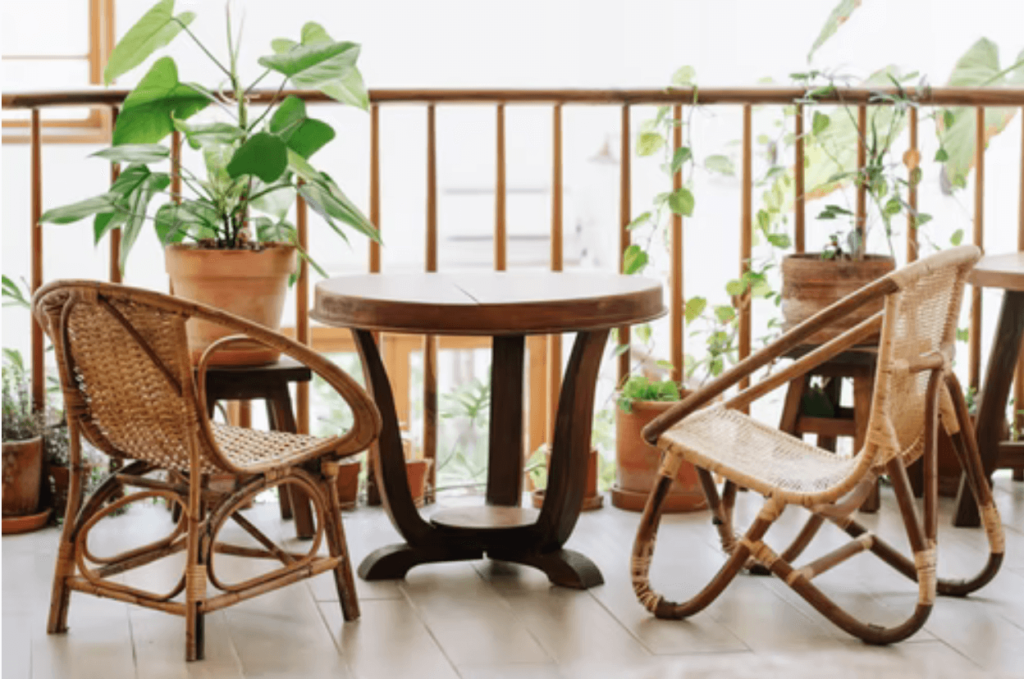 While having a smaller outdoor area may be a bit of a challenge if you're looking to fully express your décor style, it shouldn't keep you from expressing yourself. When you come back home after a long, stressful day at work, you should be able to take a breath of fresh air and relax comfortably. By following this guide, you can create a minimalist yet cozy space where you and your loved ones would love spending time and a space you can truly be proud of.