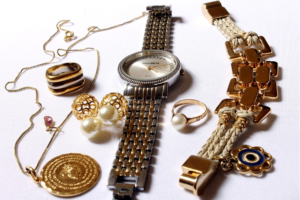 Who doesn't love jewelry? It's an essential part of any wardrobe. Whether you buy jewelry for yourself or as a gift, you want to keep it in the best condition possible. However, this is not always possible. Some pieces are made from delicate materials and require special care. Others are too large or bulky to store in a jewelry box or drawer.
It is almost impossible to find a storage solution that keeps all of your jewelry in one place and makes it easy to find the pieces you want. That's why functional jewelry storage is so important. Here are some great ideas for organizing your jewelry collection:
1. Separate Different Pieces by Metal
Different metals require different care and storage methods. Separating your jewelry by metal type effectively keeps pieces safe while ensuring they last as long as possible. Use small, labeled containers or drawers to store each type of metal separately.
Silver, gold, and platinum jewelry should be stored in soft cloth bags or pouches. Avoid plastic containers, as they can cause tarnishing. You should also store precious and semi-precious stones separately.
Proper storage is especially important for vintage jewelry like rings and earrings, as they often feature delicate designs and intricate details. Consider using individual ring boxes or compartments within your storage system to protect these heirloom pieces from any potential damage.
2. Keep Pieces Safe in Individual Jewelry Boxes or Display Cases
Individual jewelry boxes and display cases protect your jewelry from dirt, dust, and scratches. They work best for pieces made from precious stones such as emeralds and Sapphire. If you are interested in emerald rings, you can find an extensive list of options on diamondere.com. 
Make sure you select boxes and cases lined with velvet or other soft materials to prevent scratches. Before you purchase any jewelry boxes or cases, take measurements to ensure the pieces fit.
3. Hang Jewelry on an Organizer
Do you hate it when your necklaces get tangled and knotted? Hanging jewelry on an organizer is a great way to keep necklaces, bracelets, and earrings untangled and easy to find. Jewelry organizers come in various materials, such as wood, metal, or plastic.
You can also use them to store watches, glasses, and other accessories. Depending on the type of organizer you choose, you can even hang multiple pieces on a single hook or peg.
4. Install Pegboard in Your Closet
Pegboards are an easy and affordable way to organize your jewelry in style. You can install them in your closet or any other place in the house and use pegs to hang necklaces and bracelets. This is a great way to keep your jewelry off the floor and away from dust.
You can also use pegboards to display necklaces, rings, or other pieces of jewelry that you want to show off. Make sure to choose a board with a finish that matches your decor.
5. Use Jewelry Stands
Jewelry stands are perfect for displaying necklaces, bracelets, and earrings. They keep them safe from dirt and dust and provide an interesting focal point in your room. Jewelry stands come in a variety of styles, so you can find one that suits your taste.
You may want to keep your jewelry stands away from windows and direct sunlight to prevent discoloration since many metals are sensitive to light.
6. Utilize a Jewelry Tree
Like jewelry stands, jewelry trees are a great way to store and display your jewelry. They vary in size and design, but they all have one thing in common: branches or hooks that you can use to hang your jewelry.
However, you should remember that jewelry trees can take up a lot of space, so they work best if you have a large collection. Choose the one that best suits your bedroom decor so it can become a beautiful accent piece in your room.
It's easy to keep your jewelry organized and looking great with the right storage solutions. Whether you prefer traditional jewelry boxes or modern display cases, there is something for everyone. Find the one that best suits your needs, and you'll be set to enjoy your jewelry for years to come.