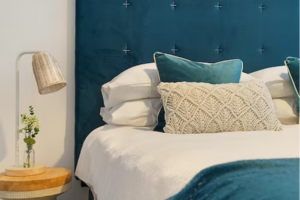 As a writer, getting enough quality sleep is essential – it helps you stay energized and productive during the day, and could even help improve your creativity. But sometimes, even if we feel exhausted at night, it can be hard to get the restful sleep our bodies need. That's because many things can interfere with our sleep quality without us realizing it. Here are some of them:
1. Snoring
Snoring is one of the most common sleep disturbances and can affect both the snorer and their partner's rest. It occurs when the soft tissues in your throat relax during sleep and partially block your airways, making it difficult to breathe. As a result, you may experience shallow breathing, pauses in breathing (apnea), or loud snoring. In addition to causing physical discomfort, snoring can also disturb your partner's sleep schedule by disrupting their natural sleep patterns. You can find out more here about ways to combat snoring. It's important to see a doctor if your snoring is persistent or you experience associated symptoms like daytime sleepiness.
2. Poor Sleep Hygiene
Poor sleep hygiene involves any behavior or habit that disrupts your ability to get good rest. This can include anything from drinking caffeine late in the day or exercising too close to bedtime, to keeping your bedroom too warm or not having a consistent bedtime routine. To maintain healthy sleep habits, it's important to establish a regular bedtime schedule and stick to it. Avoid consuming caffeine or alcohol close to bedtime, keep your bedroom environment comfortable and dark, and practice calming activities like yoga or reading before you turn in for the night.
3. Stress & Anxiety
When you're feeling stressed or anxious, your body produces hormones that can interfere with restful sleep. It's important to take some time during the day to reduce stress levels; this could include taking a walk outside, meditating, journaling, or simply allowing yourself extra time in the mornings so you don't feel rushed. If your anxiety is more severe, consider talking to a mental health professional about ways to manage it. The earlier you get help, the better your chances of improving your overall sleeping habits.
4. Illness
When you're ill, your body is trying to fight off infection or illness and this can take energy away from restful sleep. If you're feeling unwell, make sure you get plenty of rest as well as proper nutrition to help with the healing process. Speak to your doctor if your symptoms are persisting and interfering with your sleep quality. There is often medication available that can help reduce symptoms while you are recovering. It may also help to keep a sleep diary and track any patterns in your sleep that could be linked to illness.
5. Age & Menopause
As we age, our bodies go through natural hormonal changes that can affect our ability to sleep well. These changes often occur in women as they reach middle age and experience menopause; hot flashes and night sweats can disrupt their sleep patterns and prevent them from getting a good night's rest. If you're going through menopause, it may help to talk to your doctor about ways to reduce symptoms like hot flashes and night sweats.
6. Bedroom Environment
Your bedroom environment plays a huge role in how well (or not) you sleep at night. To ensure your bedroom is optimally designed for good rest, make sure it's dark, quiet, and comfortable temperature-wise. Avoid working or using electronics in the room as this can stimulate your mind and interfere with your ability to fall asleep easily. Finally, keep the room tidy – studies have shown that clutter can increase stress levels which will also affect sleep quality significantly. 
How does the quality of sleep and age correlate? 
Research has shown that older adults tend to experience less deep sleep, which is an important type of sleep for the body to restore energy levels and perform its most important functions. Poor or insufficient sleep in seniors can lead to a greater risk of chronic conditions such as high blood pressure, heart disease, diabetes, depression, memory problems, weakened immune system, and even dementia. It's therefore essential for seniors to get enough quality sleep regularly to maintain good health.
Although many things can interfere with our sleep, there are also many steps we can take to ensure a good night's rest. Take some time to evaluate your lifestyle and consider what adjustments you need to make to create an environment that is conducive to healthy sleeping habits. If you find your sleep quality is still not where it should be, speak with a doctor or mental health professional who can help identify any underlying issues that could be affecting your ability to rest well. Good luck!