Whether you're building a new fireplace, remodeling, buying a new flat-screen Television, or simply reorganizing your living room furnishings, hanging a TV over the fireplace is one of the rising innovative ideas today.
A flat-screen television hung or placed over the fireplace is arguably one of the most popular fireplace decorations. This arrangement is used to save space and create a uniform setting. However, watching a movie or television series in front of a blazing fire is not an ideal option. When mounting a television above a fireplace, various factors are to consider.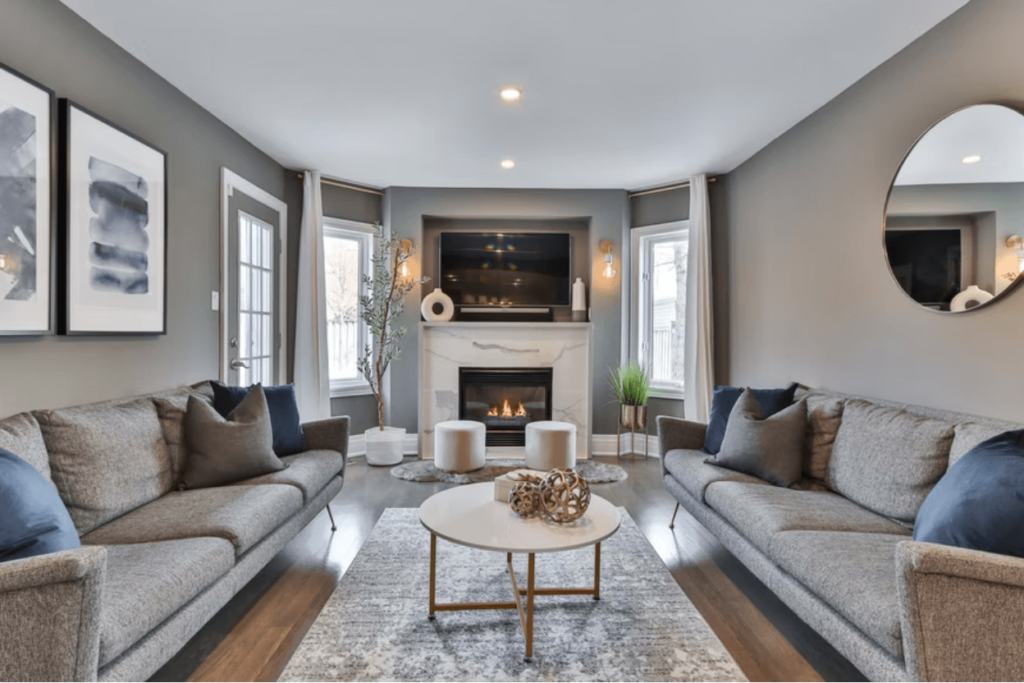 Before you mount a TV above a fireplace, think about these five things:
Even though most experts advise against installing a television directly above a fireplace, some homeowners do so anyhow. This is due to safety concerns regarding drilling into your fireplace facing to install the hardware and putting the weight of the television on your fireplace wall.
If you drill into the chimney wall by accident, smoke and other toxic pollutants may flow into your home, and a  cracked or burst chimney box, for example, might be costly to repair. 
If you want to put a TV over your fireplace, we can help you do so safely. Before proceeding with your project, think about the following factors of installing a TV on a fireplace wall:
Fireplace types and clearances

TV wall mounts and materials for facing the fireplace

Fire Safety

The disadvantages of viewing TV above the fireplace

Keeping your television safe from fireplace flames
The Kind of Fireplace and Clearances Influence TV Mounting Over a Fireplace
The kind of fireplace you have at home will determine whether or not you should set a TV above it. There are three types of fireplaces:
Wood-burning fireplaces

Fireplaces that are powered by electricity

Gas-burning fireplaces
It's imperative to remember that each fireplace and home are built differently, so what works for a friend or acquaintance might not work for you at home.
TV Mounting and Fireplace Clearance
Before hanging a flat-screen television over your fireplace, ensure enough clearance. In this example, clearance refers to the shortest distance that can be securely hung or positioned between a fireplace and combustibles such as a  shelf, mantel, or flat-screen TV.
Mounting a TV Above a Wood-Burning Fireplace
Because wood-burning fireplaces get extremely hot while burning, you'll want to use additional caution while hanging a TV above one. The best part is that most of the heat created by wood-burning flames escapes up and out the chimney, so any fireplace decor or accessories, such as custom metal wall art or your flat-screen TV, are unlikely to be damaged.
Installing a Television Above a Gas Fireplace
Before you may mount a TV above your gas fireplace, you must first determine if it is vented or ventless. This will help you figure out what kind of material is in the wall above your fireplace and how much heat it emits. 
Ventless gas fireplaces radiate heat, but vented gas fireplaces lose it up and out the chimney. So if you want to mount your TV over a gas fireplace, make sure it's a vented type so the heat can go up the chimney instead of back into your house.
Materials for facing the fireplace and TV wall mounts
The next step is to consider the fireplace-facing material in your home and how the mounting brackets will be secured. If you're wondering how to put a TV above your fireplace, start by considering your fireplace-facing materials. You'll have to drill through the wall you are facing if it's made of brick or stone to attach the mounting kit and hang your television.
Installing a Television in a Brick or Stone Fireplace
When hanging a TV over a masonry fireplace, drilling into the facing for hardware, mounting brackets, and the TV is typically required.  It's necessary to keep in mind that mortar isn't the same as glue, and bricks aren't stuck together indefinitely.
Television Installation and Fireplace Protection
Other fireplace safety issues arise when a TV is placed above a fireplace. We've highlighted how using the incorrect size screws to mount a TV might destroy your chimney. In addition, when the television is positioned wrongly over a fireplace, it may tumble over, injuring small children or pets.
Watching TV Above a Fireplace Has Its Downsides
When you mount a television above a fireplace, your eyes will be at eye level while you enjoy watching your favorite tv shows and programs. Although it may appear like watching TV at eye level is a good idea, it is not always comfortable to do so, especially for lengthy periods. Therefore, aside from the mounting method, you need to think about the downsides of seeing a TV that is high above eye level.
How to Keep a TV Safe From Heat From a Fireplace
If you don't have a fireplace mantel or hood, this is where you should start protecting your TV and other equipment that dangle over your fireplace. A fireplace mantle or cover will help spread heat from the fireplace and prevent radiant heat from melting or ruining your television.
A fireplace cover or mantle can help screen any heat from the fire from damaging your television when you have a wood-burning, electric, or gas-burning fireplace. That is why a lot of homeowners are now investing in custom fireplace screens. However, before installing those components, the necessary clearance must be obtained.
Takeaway
Installing a television over your fireplace is a great way to incorporate elegance, comfort, and leisure in your home; however, just because it's a great idea doesn't mean it's the ideal option for you. And when it comes to house interior renovation, you must always think about your safety. So, so before you start your tv mount goal, get professional assistance. We hope this blog will serve as a springboard for your project, regardless of the outcome!